The cycle of poverty is vicious and difficult to break. But that hasn't discouraged Dona Ponepinto from dedicating much of her life to helping those who struggle.
Experienced in the barriers faced by South Sound people who live above, below, and on the poverty line, Ponepinto has led the United Way of Pierce County since she was hired as the organization's CEO in 2014. The appointment to this senior position dates back more than 30 years, when she began working at the United Way of Greater Los Angeles. She later worked for United Way in Orange County and Detroit before arriving in the Pacific Northwest.
"I started out at the very bottom," Ponepinto said, laughing. "I think that was a great thing for me, though."
That first position as a planning associate in Los Angeles was meant to be a temporary job — at the time, she had just earned a master's degree in counseling and hoped to work as a marriage and family therapist. But it didn't take long for her to fall in love with the organization that would go on to define her career.
"The thing that I liked about the work was that it was more macro level," she said, reflecting on how she got hooked. "The way we help one family at a time is very micro level, of course. But there's always that bigger picture — the systems piece. To me, that's what we have to begin to chip away (at) in order to figure out how we can fix (or) replace systems that are meant to help but that don't always (do so)."
This delicate balance between small- and big-scale projects captures the dynamic work that United Way has always strived for in its effort to serve as a catalyst in bringing myriad components together.
Since Ponepinto started working with South Sound communities, UWPC has fine-tuned its focus, choosing to home in specifically on removing barriers for families living in poverty and considering more long-term solutions. This means providing resources and support to parents who do not have the tools they might need to navigate the systems that so surreptitiously trap them.
Also focused on by UWPC are those who are not quite in poverty, but who are one emergency away from it. These people are defined by United Way as Asset Limited, Income Constrained, Employed — or, more conveniently, ALICE. These households earn more than the Federal Poverty Level, but less than the Household Survival Budget, meaning their situations offer little room for savings. The most recent ALICE report for Pierce County found that 42 percent of the region's households live at the poverty level or the ALICE threshold — far exceeding official federal poverty statistics.
For these vulnerable populations, UWPC has a lofty goal: to lift 15,000 households out of poverty by 2028. "We're focusing on uniting the community to end poverty one family at a time," said Ponepinto. "It's a bold statement, and we know we can't do it alone."
Ponepinto recently spoke to South Sound Business about UWPC's goals and strategies, the economic complications experienced by those it serves, and the way Pierce County measures up to the other communities familiar to Ponepinto through her work.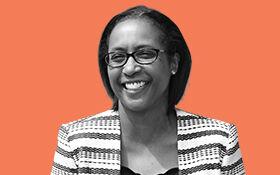 Q: UWPC's work hopes to shift systems of oppression that keep people trapped in poverty. How do you approach such a huge and daunting task?
A: We start small. The system is huge, but if you think about how social change happens, it's usually at a small grassroots local level. In Detroit, foreclosure is a huge problem. To help, we worked on putting together an online tool (that) connected people with housing counselors. It was just a start, and it didn't completely solve the issue, but it certainly stopped a lot of families from going into foreclosure. It's definitely about starting small — and also believing that we can do it. When we're talking about issues like poverty and lack of affordable housing, childcare, and jobs that can sustain a family, we have to have some kind of belief that we can figure out some solutions — even if they are short-term.
Q: Why are so many people in the region trapped in poverty — or qualified as ALICE — if the region's economy is doing relatively well?
A: Right now, the unemployment rate is low, so you would think things would be great. But wages lag behind. In the state of Washington, 50 percent of jobs pay $20 or less an hour. Of those jobs, 60 percent of them pay $15 or less. The jobs are out there, but they can't cover a family's expenses, especially as the cost of housing climbs as people from Seattle move down here.
Q: You've worked with United Way in Los Angeles, Orange County, Detroit, and now Pierce County. Did you notice any similar trends or important differences between those places?
A: What I have found over the 30 years that I have been doing this is that, unfortunately, it's the same issues in every community. The degree and the level of intensity might be different, but the issues have stayed the same. It's maddening sometimes because we've been working on these issues for so long, but people are still struggling.
One difference in Pierce County is that issues like transportation are more elevated. When you get farther out into this county, people are moving there, but there isn't access to resources or transportation, which is a huge problem.
Pierce County is also the smallest community I have worked in. In a smaller community, I think it is easier to get people around the table. That is something that I have really enjoyed about this county. When there's something that we need to try to tackle — housing, childcare, jobs — people will come around the table. Will we always leave that table with a solution? No, we won't. But I think the fact that people are willing to talk about what we can do and what we should be thinking about is really important.
Q: Through community conversations and surveys, UWPC prioritizes the inclusion of the voices of people who struggle against the barriers you're trying to remove. What does it look like when you reach out to those people who are experiencing difficulties?
A: We work with a lot of our partner organizations and other groups by asking them to pull together their clients (for a discussion), or we might go into a neighborhood association meeting (to) talk with residents in that community. We try to look at the higher-need areas. We have areas within Pierce County where the poverty level is almost 100 percent. In those places, we ask people not only about what the issues are, but about how they would solve them, what would be most helpful to them. One of the things that I think people need help with is just navigating systems, knowing the right questions to ask. And those services are so manageable to provide.
Q: What are the approaches UWPC takes to create financial stability for families?
A: The main way is through The Center for Strong Families, which is a program and a model that looks at how we can help families earn, keep, and grow their income. It is a three-pronged model: employment, income support, and financial coaching. The idea is that these services do not exist in a vacuum, but that they are integrated and bundled together. Research has shown that the more that you integrate these services, families are five to six times more likely to increase their income, decrease their debt, and improve their credit scores.
What makes the Center for Strong Families different is that it helps people get on their feet and stay on their feet. So many programs have people go into a workforce development training program, which is followed by monitoring for 30 days to see that you're in a job. The Center for Strong Families model says, OK, they're in a workforce development training program, you're on your way to getting a higher-paying job, you've got the first paycheck — let's talk about your money. How are you going to use your paycheck, what do you need to do, how are you saving? It's really about coaching people. It's more of a hand up, not a handout.
Q: You have a goal to lift15,000 households out of poverty by 2028. Where do those numbers come from?
A: The 15,000 is derived from the ALICE numbers. There are (about) 300,000 households in Pierce County, and about 100,000 of those households are ALICE (or) in poverty. A number of those 100,000 — about 15,000 — are houses with children living in poverty. Essentially, we want to see movement for these households, and the number is aspirational. It gives us a clear vision of what it means to be serious about lifting people out of poverty.
Q: What are you most proud of in terms of your accomplishments as CEO of UWPC?
A: I'm so proud of the fact that the community really sees us as a change agent. They see us as being an organization that is about impact: We walk the talk. That, to me, is really important. And I'm proud of the change we've made. While the change is slow, especially with an issue like poverty, it's still there. We can actually do something. We can actually make a difference.