---
The July 2021 edition of South Sound Business is the Legacy Business Issue. Here is the fifth in a series of features about local businesses steered by second-, third-, or fourth-generation leaders. Read the last story here.
That old question about buying a cow when you can get free milk was one that budding entrepreneur Ben Smith answered in 1920, when he purchased his neighbor's cow and began selling the excess milk to fellow West Seattle residents.
More than 100 years later, Smith's great-grandson Dusty Highland, the fourth-generation CEO of the family-owned Smith Brothers Farms, said from that one cow grew a business with more than 200 employees and more than 70,000 delivery boxes on local porches.
Of those early days, Highland recalls family stories of the patriarch purchasing 250 acres of land in the Kent valley and subsequently herding all his cattle down present-day Interstate 5 to the new milking operation. "He lived in West Seattle, and he wasn't a farmer by nature — he didn't grow up as such — so he was kind of learning things as he went along," Highland said.
Soon, Smith Brothers' cow-print trucks were dispensing dairy products across the region during a time when fresh deliveries from one's local milkman/woman was standard practice for most American households. For a substantial stretch of time, business was good.
"In the 1960s, all of a sudden, homes had refrigerators and supermarkets (were) popping up, so (consumers) could get all the groceries they needed in one place — that really changed things," Highland said. "There used to be maybe a dozen home-delivery dairies in the area, and they started going by the wayside."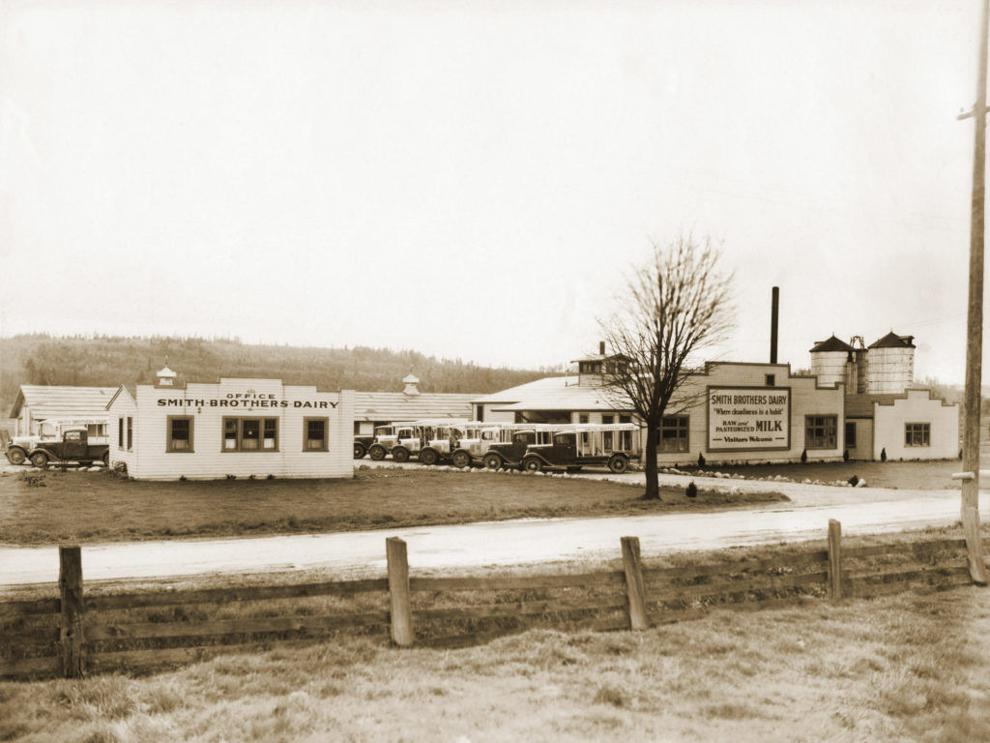 To keep the dairy going, the family diversified by adding a John Deere franchise to its portfolio.
"Really, my grandfather did it so he could get cheap equipment for the farm," Highland joked. "But that business started blowing up in the '70s, '80s, and '90s because of all the construction that was going on in the Puget Sound."
The franchise sustained the family business for almost an entire generation, and when the Dot-Com bubble burst in 2000, Smith Brothers leaned on its marketing and sales to outlast failed grocery-delivery sites like Bellevue-based HomeGrocer.com that were ahead of their time.
In 2006, Smith Brothers sold its dairy production and started buying its milk from other local farms. It also increased its product offerings beyond dairy products and brought its contract delivery crew onto its staff roster.
"We already had a porch box on all our customers' homes, and it just made sense to begin offering other types of essential Northwest food brands," Highland said.
Though the COVID-19 pandemic did equal a substantial boost in demand for its home-delivery services — growing new clients from 50 per day to 500 per day at the height of Gov. Jay Inslee's stay-home order — Highland said it's the personal service that has allowed Smith Brothers to stand the test of time.
"I think that's something that, especially now during COVID, having that personal interaction and knowing (the person) dropping your milk off , there's something nice about that," he said, noting as an example a recent story of a milk delivery person who is playing a week-to-week game of tic-tac-toe with a customer's daughter. "It's little stuff like that that I think makes it different than just a different delivery person dropping a box off on your porch every week."
When asked what he thought Great-Grandpa Ben would say of the family business today, Highland laughed. "I think he might be a little bit confused when I told him that our customers update their orders on an iPhone app rather than leaving a note in the porch box. But I do think he would be proud because we are still around and operating a business model that he started."