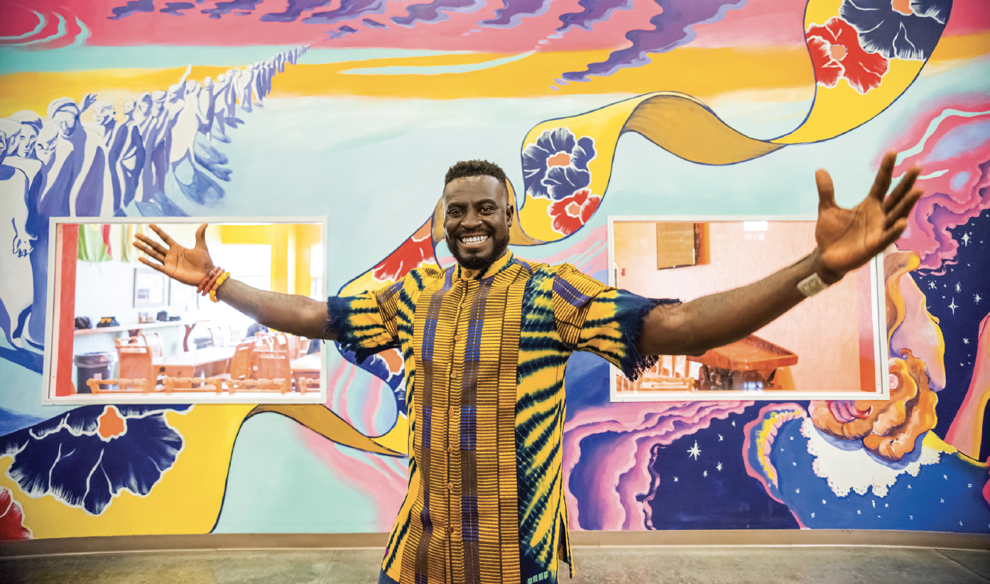 Olowo-n'djo Tchala was touring a hospital in the small town of Kaboli — something he does often when he's back in his native country of Togo, West Africa — when he met a new mother and her infant, Alaffia. He thought the name, a word typically used as a greeting and blessing of peace or health throughout the area, was beautiful. But what really moved Tchala was that this was his baby's name, too.
More specifically, Alaffia is the name of Tchala's Olympia-based hygiene care company, and his second baby, the Alaffia Foundation's Maternal Health Project, had funded full pre- and post-natal care to this new mother.
"We have many mothers, actually, that name their children Alaffia," he said of the women in this community, "because they feel it's Alaffia that saved their life." Tchala's Alaffia — both the brand and the multiple foundations under its umbrella — also begins with a mother figure, this time his own.
"When I look back, when I tried to define who I am and why I started Alaffia, I really believe it has to do with the way in which we were brought up and what my mother had instilled in us about caring about the people." he said. "She wants to raise sons who are hardworking, that are self-dependent, sons who respect women — and then have a sense of duty and have this sense of responsibility in one's life."
For Tchala, Alaffia was always more than a business: It was a way to fulfill his mother's wishes.
Together with his partner (and Olympia native) Prairie Rose Hyde, the duo launched the company in 2003 in an effort to bring high-quality, distinctly West African products to the United States. At its core, Alaffia is a self-care brand focusing on hair, face, body, and infant-safe items. Everything is made by hand, using only traditional methods. Lavender Lemon Bubble Bath is a best-seller, as is the company's Curl Control Custard. The labels boast meticulously sourced ingredients such as shea butter, African black soap, and coconut oil, and can be found at major retailers like Whole Foods, Target, and Walmart.
But to say Alaffia is just another beauty brand is to sell it short. In a sea of companies that not-so-sneakily virtue signal and greenwash for gain, Alaffia stands out as being, well, not full of it.
"What makes Alaffia products different," Tchala said, "is that the ingredients are ethically produced. We're not looking to become a participant of a criminal act, meaning that we don't produce a product that may be causing harm to other people in the supply chain."
This means the business is built on, and painstakingly adheres to, Certified Fair Trade philosophies. Fair wages, equal employment opportunities, environmentally sustainable practices, healthy and safe working conditions, and sourcing local ingredients are standard practice — a move Tchala is quick to credit to "moral duties that my mother has instilled in me."
"We need to create jobs," Tchala said, "so that women like my mother who did not know how to read or write have something to offer the world. By giving them jobs, that will be the step toward reducing the inequalities that we see among women."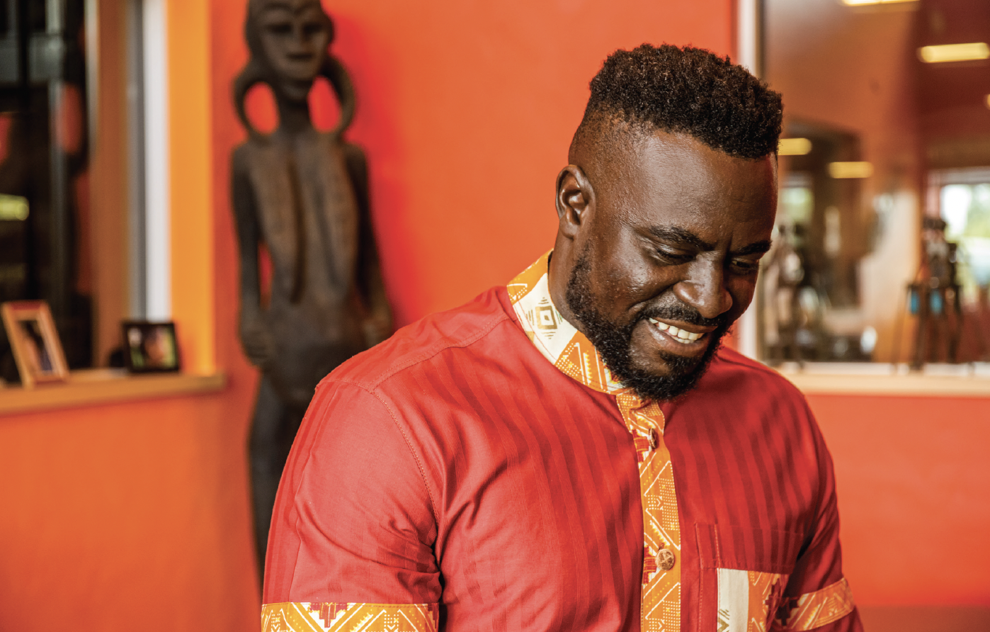 Ever the proponent of transparency, Alaffia arms its marketing materials with statistics: To date, the company has provided work for roughly 12,000 women in nearly 160 villages across Togo. Alaffia also organizes workers into independent, cooperative collectives and teaches them ethical business practices. Profits from the sales are then funneled back into the Alaffia Empowerment Projects, a series of programs including maternal care, education, and environmental sustainability that ensure "basic needs are met for a dignified life."
This is where the numbers become staggering: Alaffia has financially supported nearly 6,000 births, built 16 schools, provided school supplies to roughly 40,000 local students, has given more than 10,000 bicycles, and has provided more than 30,850 pairs of eyeglasses to members of the community.
"The stories are endless," Tchala said. "There's no doubt that we have impacted the community. When we look in the central Togo, 1 in 5 children born is 100 percent paid by Alaffia today. One in 36 mothers usually would die from giving birth, but those who are under Alaffia care? Almost 99 percent of them will survive."
The connection between self-care products that end up taking care of entire villages is not lost on the Togolese, and the fact that so many grateful women name their children Alaffia is not terribly shocking.
"There are endless stories that we have," Tchala said, "but for me … it is not about what feels good, but it's a moral obligation. And if I can do it and I don't, then in some ways, it is a criminal act.
"'Just jobs' is not the end (goal)," he continued. "What type of jobs? It needs to be environmentally friendly. It needs to take into consideration our indigenous ways of life. It needs to take into consideration the aspect of natural resources that we have. Also, if it is not produced ethically, and people who are making it are not compensated fair wages, I don't think that the full benefit of the product is there."
Tchala and Hyde are close to two decades deep with Alaffia, and some advice to consumers, which Tchala modestly offers, is sound: "They have an extreme amount of power," he said. "What they consume? It matters. It matters to our future generations, and it matters to people in the supply chain.
"I wish for them to ask more questions of different brands that they consume, because they can make change without having to change their lifestyle," Tchala said. "They can have everything they already have, but things have to be done ethically and humanely. I think it will make this world a much better place."