Earlier this month, the University of Washington Tacoma and Sound Credit Union announced the two winners of their inaugural, collaboratively offered FinTech (financial technology) Incubator Competition.
The competition provides a growth opportunity for local innovators who have an idea on how to help simplify financial decision-making for the general public through technology. Participants present their concept to a panel of judges comprising UWT and Sound personnel as well as community leaders; feedback and advice are offered. The hope is that those who participate will use the competition as a launching pad — a tool to help make their idea go from simply an ingenious concept to something that can tangibly affect lives. Each winner receives a cash prize and a renewable six-month membership to Seattle's CoMotion Labs.
This year's winners were Tacoma's Leif Christensen and Sammamish's Betty Park. Christensen, who recently graduated from UWT, proposed leveraging AI to help investors better understand the ethics of the company they are considering backing. Park, a computer science major at UW Seattle who will be heading into her junior year in the fall, pitched a system that would demystify retirement planning.
"There's a lot of good ideas that people have, but there can be just a little bit of (additional) knowledge that can help them go from idea to actually scaling," Michael Helser, the assistant director of the UWT's Milgard Center for Business Analytics, told South Sound Business of one way the competition seeks to bolster its participants' growth. "We provide the kind of technology resources … to help them get after it."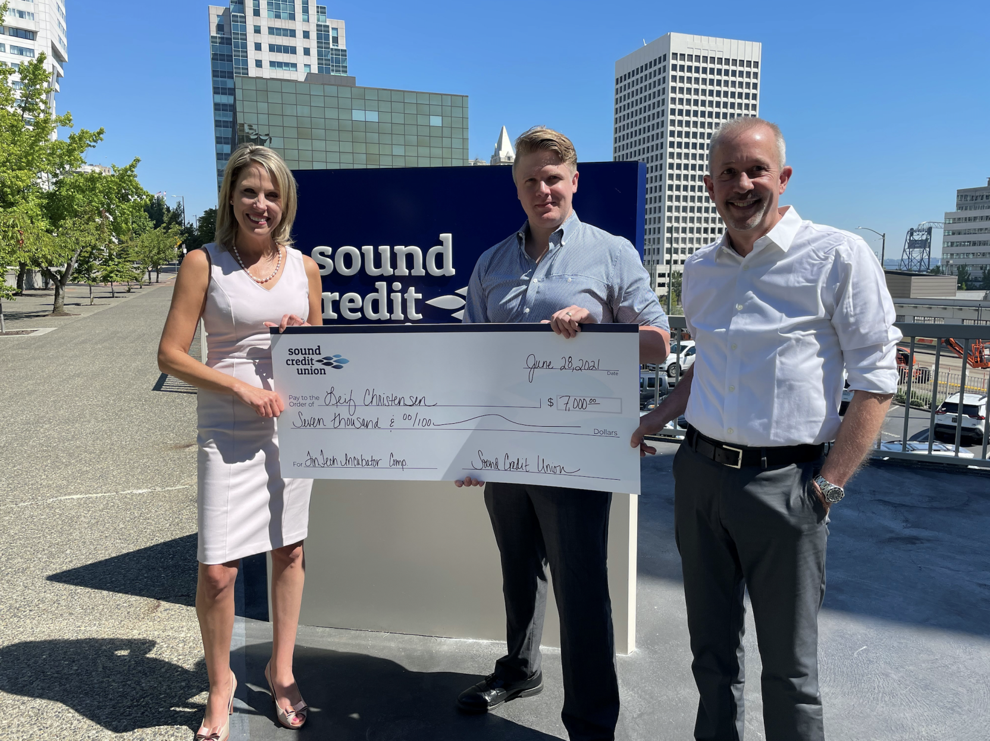 Pipeline of Support 
Sound's chief information officer, Nancy Sternitzky, said discussions for the competition began in spring 2020. The advancement of digital transformation, Sternitzky said, is always something on the minds of both the credit union and its members. There also was a desire from Sound to further support students and/or up-and-coming tech innovators as opposed to those more established.
Sound and UWT already had a relationship before the competition. Helser noted that Sound has sponsored student-project teams in the past; the director of UWT's Center for Business Analytics is on Sound's board of directors. This connection led to conversations about what would eventually culminate in the FinTech Incubator Competition, itself inspired by a similar program offered by BECU.
"We talked a lot about inequity and equality when it comes to how we look at startups and fintech," Sternitzky added. "Most of them, by the time they would get to (Sound for support) in the past, they've already been through some of the big players. And they've already gotten a sponsor, software firm, or one of the big financial players to help back them. They've already grown quite large. But the smaller ones that have a hard time getting noticed, getting focus, or even just asking questions — that was another area that we thought, 'This could be a great channel for it.'"
The competition unfurled across two unofficial stages: the first exclusive to UW students from all three campuses and with a smaller prize, the second with statewide eligibility and the larger reward. Jennifer Reed, Sound's vice president of public relations, said that this year, there were about seven total participants — a number she would like to see expand in the future.
"I think any way we can connect with entrepreneurs that are out there, who are coming up with new fintech products on how they can help people in managing their daily finances, helping increase awareness, and just financial confidence — that's what it's all about," Reed said.
Future Plans
Given his previous experiences working with data analytics in the credit union industry and UW's artificial intelligence program, Christensen said he felt it was "a perfect fi t" to apply for the competition. He said his pitch came to him in light of recent social polarization.
"I think people are more and more hesitant to invest in companies that don't support their own values," Christensen told South Sound Business. "And researching companies yourself is really time-consuming. Other ethical investment portfolios exist, but they're manually curated, and they only support a few topics and a few positions related to those topics. And I hope to change that."
Moving forward, Christensen is planning to form a team of AI developers and other business partners to continue fine-tuning his concept. He added that there has already been a lot of enthusiasm for the project, and he hopes momentum continues as concept programming is refined.
Park first caught wind of the competition through a school message board. She thought it sounded interesting and, mainly wanting to do a project for herself, decided to apply. She didn't have a pitch in mind going in, but eventually settled on a concept that involved disentangling the jargon and unclear concepts inescapable in retirement planning. She had been thinking about retirement because of her parents, and was astonished at how confusing it was to parse through even the fundamentals of retirement planning firsthand. Park thought about how, if comprehension was difficult for her as a well-resourced and educated person, what was it like for disadvantaged communities with fewer resources?
"I was like, 'Why don't I try to create this system that will allow this process to be easier, and simplify everything that's going on?'" Park recalled. "Because I felt like the system was designed to only be inclusive to a certain group of people."
Her conceptual system looks to incorporate predictive models, breakdowns of jargon, and a translation tool.
Initially, Park looked at the competition as more of a temporary project. But now, she wants to "take it more seriously and turn it into something legitimate with substance." Park plans to continue polishing her concept throughout the school year and see how far she can take it.
As far as the competition itself goes, Sternitzky, Reed, and Helser all expressed a desire for it to be annual, widening its reach with time. Sternitzky also hopes it will help bolster the South Sound's tech reputation, which is often overshadowed by the high concentrations in Seattle, Bellevue, and Redmond.
"I don't think there's any appetite at all to lessen the focus or the energy around it," Sternitzky said of the competition. "If anything, we'll be providing more resources to it and ideas of how we can promote more entrance to it, and word of mouth and social to get more people engaged."