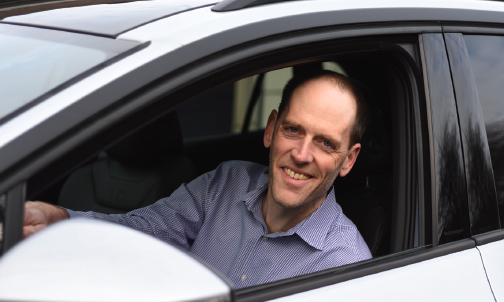 The pre-owned vehicle market dwarfs the new-vehicle market in units sold, so Tacoma's Scott Case figures if his company can make pre-owned electric vehicles (EVs) easier to understand, buy, and sell with confidence in batteries' expected range over time, it can accelerate EV adoption and help the planet.
"It is really important for the used EV market to be … liquid and high-functioning and (for) there to be a lot of confidence for buyers — and that's what we're trying to do," said Case.
He is the CEO of Recurrent, which he co-founded in 2020 with chief technology officer Kyle Rippey.
"We absolutely want the electrification of transportation to happen faster, and our part in doing that … is making sure that the secondary market is really liquid," he said.
That begins with transparency on used EVs and their batteries based on data Recurrent is collecting, crunching, and condensing into easy-to-understand terms.
"In all the data we've looked at now — 20 million data points across probably 10,000 different cars — we've just seen the odometer is not particularly correlated to the battery health," Case said.
Factors include the climate where a vehicle has been used (hot climates can degrade some batteries faster over time), type of battery, depth of battery charge and discharge (a battery charged up to 100 percent then run down to zero is more degrading to a battery over time, for example, than keeping it roughly in the 30 to 80 percent range), calendar age, battery chemistry, how the vehicle is driven, and more, Case said.
Recurrent's data-crunching offers clear information not just for buyers of used EVs but also owners of existing EVs, and auto dealers who sell pre-owned EVs. Case pulled up a Recurrent report on a 2017 Tesla Model S at a dealership in Dallas. The car had a 75-kWh battery pack; 118,600 miles on the odometer; and an EPA range of 249 miles, an expected range of 228 to 229 miles based on local average temperatures of 55 to 78 degrees, and a projected range in three years of 223 to 224 miles. The report included a map of the cities within range of the dealership area code. Recurrent gave the car an excellent rating and noted it had 34 months or 31,340 miles left on its battery warranty.
EPA ranges for new cars don't account for differences in performance in different weather, Case said, and all the other variables come into play over time.
Looking at another Recurrent report on a similar Tesla in Dallas, he said, "If somebody in Seattle was looking at this car versus somebody in Dallas, we're going to model it for the typical highs and lows (in temperature) that you would see here, as opposed to the typical highs and lows you'd see in Texas," he said. Ultimately, purchase decisions are personal, Case noted, using the example of a shopper in Tacoma or Bellevue who wants to know whether he can drive to Bellingham on one charge.
"And can I make it there in one charge in the dead of winter, three years from now?" he said. "That's sort of the questions that people want to know, so that's kind of the big picture of what we're doing."
Recurrent's analysis helps a buyer or seller adjust the price accordingly.
How Data is Collected
Recurrent's information is based on data collected from existing EVs in the United States, but Case expects Recurrent's business eventually will be global. Its U.S. data set is growing by the day as more EV owners share their car's battery data.
Existing owners of pre-owned and new EVs agree to allow Recurrent to access the manufacturer's connected services account for the vehicle (such as Chevrolet OnStar, NissanConnect, or Tesla), which Recurrent automatically reads thrice daily for five measurements: odometer reading, state of charge (equivalent to how much fuel is in the tank), range estimate at the moment, whether it's plugged in or not, and whether it's charging or not (a vehicle could be plugged in, for example, but not charging because it's reached a designated charging limit).
In return for that data, owners get a free monthly report on how their vehicle is doing, including a plot of daily battery charge levels. Recurrent offers some coaching on the ideal charge range, for example. Noted Case, "You don't need to always be at 100 percent basically every time you go the store; it's actually harmful for the battery."
Recurrent also compares how the EV is doing with other EVs Recurrent has seen of similar make, model, year, and battery pack. The longer the owner has been signed up with Recurrent, the more data there is to chart an EV's history.
When an EV owner is ready to sell, Recurrent essentially can provide a battery résumé that says, "'Hey, I took care of my car; look, here's the certainty on that,'" Case said. "That means that the person that owns this car next will sort of have that certainty when they go to buy, and that means that the first owner gets to sell it for more when they're ready to sell."
The reports also can help owners spot problems in their EV. Case cited an instance where Recurrent alerted an owner of a vehicle that was not meeting range expectations and clearly had a defective and failing battery pack, and the owner received a new battery from the manufacturer.
For auto dealers who subscribe to Recurrent's vehicle reports (this is how Recurrent generates revenue), they're able to provide buyers with transparency on the pre-owned EV's battery performance and future estimates. The report also helps dealers understand battery life and current maximum range when doing trade-ins or attending auctions and determining values.
"Car dealers are subscribing to provide Recurrent reports on all their inventory," Case said, referring to the earlier reports on the Dallas cars. "People will, I think, in the future, walk into their car dealership, and if they're looking at a used car, they're going to say, 'I want to see the Recurrent report on this, and that's going to give me confidence to determine what I pay for it.'"
Added Case, "I think ultimately every buyer, seller, and dealer of used EVs will refer to Recurrent to understand the health and value of the EV battery, by far the biggest cost item in these vehicles, and literally a black box today. There is a rich tradition of third-party valuation services in the auto industry, and I think we fit right into that."
In the South Sound, Titus-Will dealerships offer Recurrent battery reports for used EVs, Case noted.
Recurrent's Roots
Case incubated Recurrent out of Pioneer Square Labs in Seattle and lived in the Emerald City before moving to Tacoma in mid-2021 with his family. Case went to Charles Wright Academy in Tacoma, then Williams College in Massachusetts, where he earned a bachelor's degree in economics and political science, then got his MBA at MIT.
He previously was chief operating officer for 10 years at EnergySavvy, a Seattle company that developed software to make houses more energy-efficient and that worked with utilities throughout the country. The company was acquired in 2019, freeing Case to blaze his latest entrepreneurial path.
Recurrent doesn't have a physical office and never will, Case said. The entirely remote company today has 17 employees, with a cluster who are Puget Sound-based and others sprinkled throughout the country. The "center of gravity" is the Puget Sound area, he said.
A venture-funded company, Recurrent has raised $8 million to date, including funding from Pioneer Square Labs, Vulcan Capital, AAA Washington, Goodyear Ventures, Automotive Ventures, and others, Case said.
With Case and Rippey having roots locally, it made sense to start the company here as part of the Northwest tech ecosystem, Case said.
EVs In The Pacific Northwest 
The Northwest has a relatively clean power grid, largely powered by hydroelectric, making it a great place to charge EVs, according to Case. Even in parts of the country where power is coal-generated, EVs are more energy-efficient, he said, acknowledging the need to clean up power grids as well.
"But it is a 10-times better case here in the Pacific Northwest because of our power mix," he said.
Western Washington, in particular, is attractive for EV ownership, with its clean power, favorable terrain, reasonable driving distances between cities, and climate that doesn't get particularly cold, which can temporarily reduce range, or particularly hot, which can degrade batteries over time depending on the vehicle and how it's used, Case said.
He predicts Puget Sound will be the first region in the United States that passes 50 percent EV penetration. Battery range is still a question people ask about, "and frankly, it's a better question than, 'What's the odometer in that car?" he said. People are driven by fear of the unknown early in a technology adoption cycle, in this case, fear of how an EV will be charged or hold up.
But as people get over that fear and EV adoption begins to rapidly increase as is occurring in countries such as Norway, a new fear arises, Case said.
"The new fear is, 'I don't want to be the last person that buys a combustion engine car that will have no resale value in five years when I'm ready to sell it,'" he said. "There's going to be a moment where the resale market for combustion-engine cars just collapses, because everyone's like, 'Well, that's not worth anything; that's like old technology.'"