---
The July 2021 edition of South Sound Business is the Legacy Business Issue. Here is the sixth in a series of features about local businesses steered by second-, third-, or fourth-generation leaders. Read the last story here.
"They were going to put up a two-story office building and block all of my grandmother's sunlight," Michael Fritsch said.
He's been explaining — in colorful language one might hesitate to print in a magazine — how he came to own and operate Olympia's beloved Eastside Big Tom hamburger joint. It's when he describes a developer's would-be plans for a neighboring parking lot that he turns unusually serious.
"My grandmother would sit in her kitchen at the end of the day, and the sunlight would stream in as it was setting. They were going to spend 18 months building this building there, and when it was done, it would block all of her light."
If you've been to the corner of Fourth Avenue where Eastside Big Tom is located, you'd notice a number of things: a collection of towering plywood cartoon character cutouts, a van painted to look like Scooby-Doo's Mystery Machine, and a flock of fluorescent pink lawn flamingos. The parking lot he's referring to has been leveled to accommodate overflow parking, but otherwise remains empty.
"I bought the damn thing so they couldn't," Fritsch said.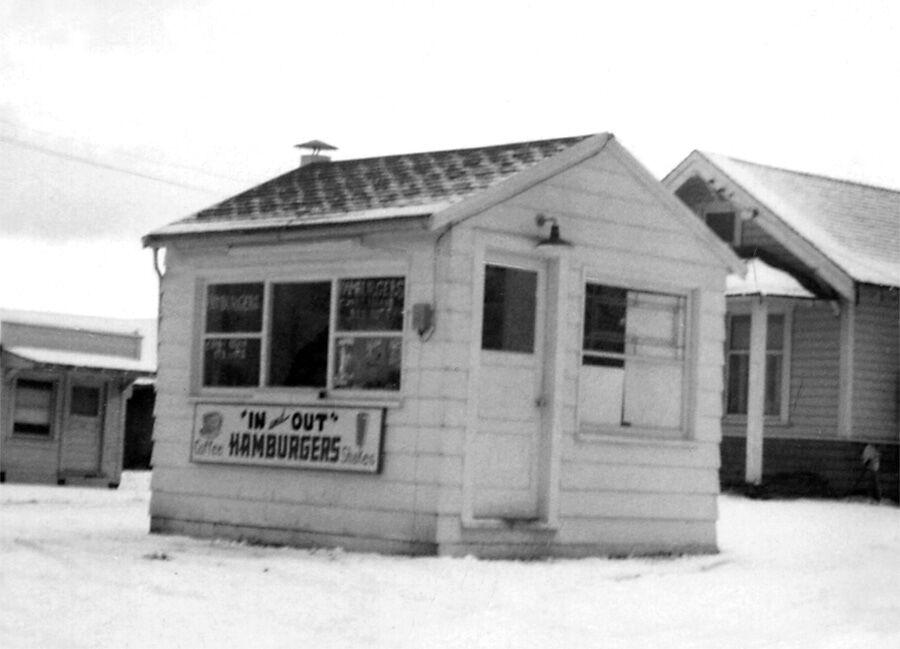 It's fitting that the entire area would belong to Fritsch, whose family has been serving burgers to the community since the late '60s. Fritsch's father was hired as a cook by Millie Eagan herself on his 15th birthday, back when Eastside Big Tom still went by the name Eagan's.
"My parents bought it in 1969 from the original family," Fritsch said, "and I've been stuck here ever since, off and on. I've run away a couple of times in my teens and early 20s, but now I own it. Funny how that works."
Six days a week (Big Tom is closed Sundays), you'll find Fritsch manning the grill. His menu is one that appears unchanged by time, made up of a dozen or so simple burgers and chicken sandwiches. "We are a place where the food will taste the same no matter what," he said. "No matter what's gone on in their lives, (customers) can come here, and they will get something that reminds them of their youth. People come in for the memories."
A regular burger costs $4.74, before tax. Fries and soda are another $5. Vegetarians might be pleased to know that most orders can be made to accommodate their needs. Vegetarian or carnivore, Fritsch recommends, in his excitable way, a "Dirty Bird" sandwich ("It's good stuff !") or a classic bacon burger — all topped with Big Tom's secret "goop" sauce.
"There are also dinosaurs," he added, although he's no longer talking about the menu. "I don't know how well you know your dinosaurs, but do you know what a brachiosaurus is? Big long neck, stands real tall? I have a 17½-foot-tall one standing out front near the sidewalk."
How does a man who's made a career of infusing levity and kitsch into his family's legacy choose a life-sized brachiosaurus to be the guardian of his grandmother's sunlight, out of every creature in the world? "I just like dinosaurs," he said simply. "It's pretty evident when you talk to me, I never grew up."