Located halfway between Tacoma and Olympia is the unique community of DuPont, a city that not only boasts a small-town feel, good transportation access, and a well-planned and developed infrastructure, but also an explosive past. Literally.
In the early 1900s, decades before its 1951 incorporation, hundreds of workers and their families called the area home after the E.I. DuPont de Nemours Co. built an explosive-manufacturing plant and village, giving rise to the name DuPont. As noted on the city's website, the explosives were used for some of the world's largest construction projects, including the Panama Canal and Grand Coulee Dam, as well as for munitions for both World Wars. In 1976, Weyerhaeuser purchased from the DuPont company the 3,200-acre property with plans to set up a wood products-export facility. Plans changed, however, as the lumber market softened in the early 1980s. Instead, Weyerhaeuser drafted a broader community development plan. The DuPont City Council in 1989 approved plans for Weyerhaeuser's Northwest Landing, a residential, commercial, and industrial development. And, in 1994, Northwest Landing's first homeowners moved in, igniting a new kind of boom.
Today, DuPont comprises both The Village (now a Historic District) and the modern Northwest Landing, and has a well-planned and developed infrastructure attractive to residents and businesses alike.
Speaking to DuPont's livability: Roughly 40 percent of its residents are retired military and about 30 percent are active-duty military.
"I hear this story a lot from people that I talk to: When their military career is over, they come back to DuPont to live," said Barb Kincaid, the City's community development director.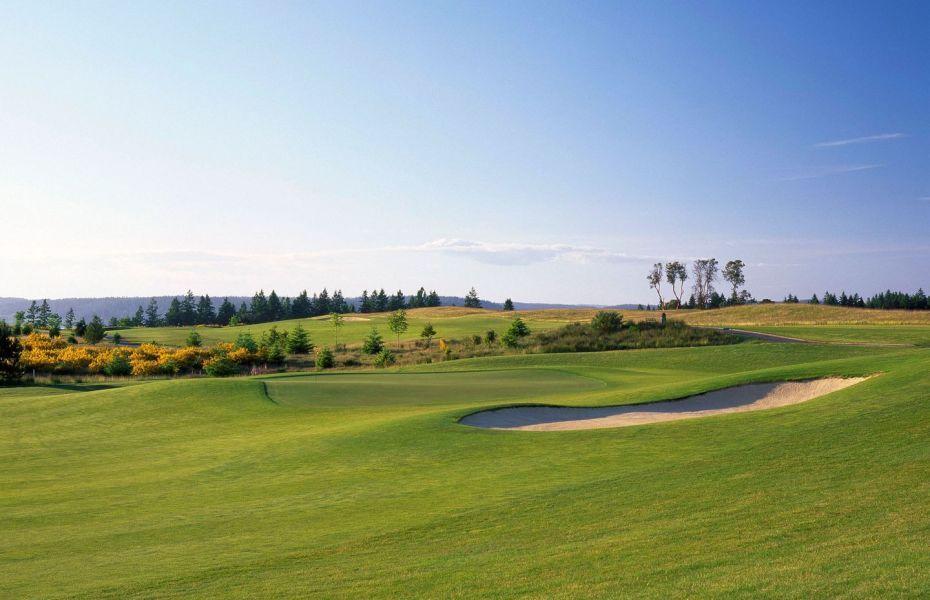 With its open spaces, tree-lined streets, and Craftsman-style homes with porches, it's not hard to see why many, including those retired military who have traveled the world, choose to call DuPont home. Another major draw is The Home Course.

Opened in early summer 2007, The Home Course is cooperatively owned and operated by Washington Golf and the Pacific Northwest Golf Association (PNGA). Over the years, The Home Course has hosted numerous regional and national championships, including serving as the companion course for Chambers Bay for the 2010 U.S. Amateur, and hosting the 2009 PNGA Men's Amateur, and the 2010 Sahalee Players Championship, among others.
Beginning in 2022, the golf course will be the home of the Northwest Open Invitational. The inaugural agreement is for three years with the prospect of an additional two years. The tournament will feature a 168-player field consisting of professional and amateur golfers.
Such events help boost the local economy and are beneficial for local restaurants, retailers, and hotels.
In the coming years, DuPont might not be known only for golf, but also soccer. The city is looking to establish itself as the premier destination in the state, and the greater region, for regional, and potentially national, soccer tournaments with the proposed development of a sports complex on Joint Base Lewis-McChord property. To date, a feasibility study has been conducted.
Another major area of focus within DuPont is public transportation and providing greater accessibility for residents, visitors, and those who come to the city for work. As a high-transit community, DuPont is among the new, planned stations for Sound Transit's Sounder train.
The station is expected to open in 2036 as part of an extension from the Lakewood station. As noted by SoundTransit, the extension will help provide service to Joint Base Lewis-McChord as well as to residents and businesses in south Pierce County.
"That would be something that we would really want to try to focus on in the future, because then obviously we have this wonderful little community where people can easily hop onto public transportation, network, and get to Tacoma and Seattle," Kincaid said.
Looking ahead, City Administrator Andy Takata said, "The vision is more of the same of what we have (now). To continue with that small-town feeling but to be able to grow and have planned communities throughout our area, and have a good mix of that with commercial in order to maintain services we currently give our public."