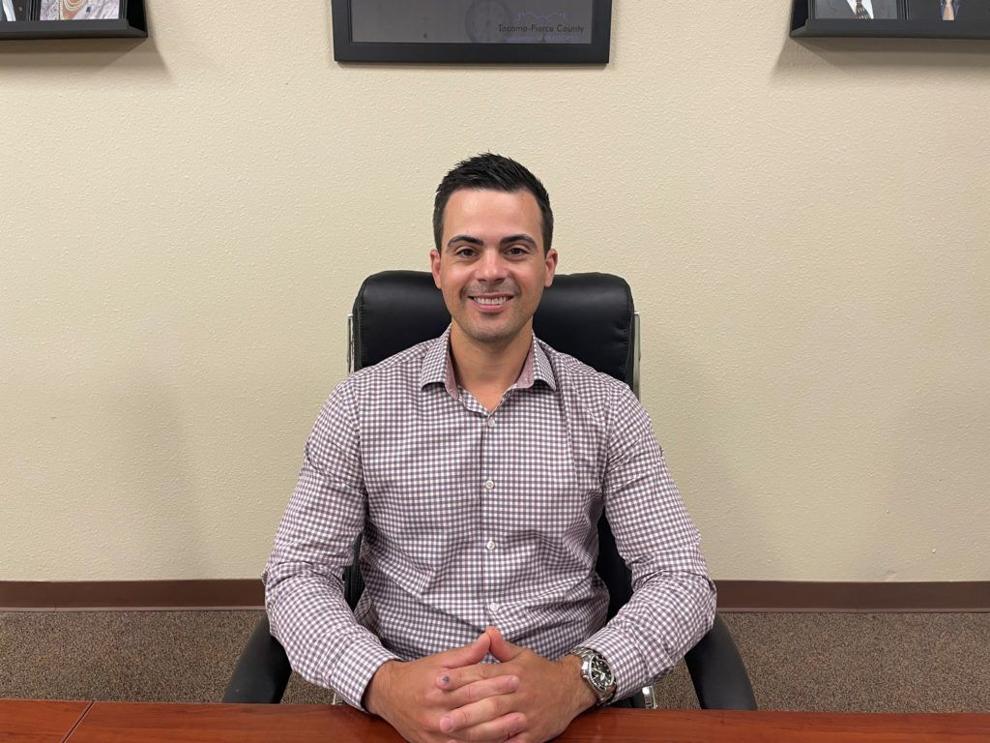 During Sean Martin's senior year at the University of Washington, he was presented with a choice. For one of his courses, the political science major could either read a textbook and write a lengthy essay or partake in a service-learning experience that still required an essay, but one with significantly fewer pages.
For Martin, the decision to go the service-learning route was easy — and not just because of the page count difference. He remembers thinking, "I'm going to get a lot more out of being in a real environment, like a real office, where there are real issues and practical things, and I'm getting connected to people."
Without much detail on what his project would entail, Martin accepted and found himself an intern for the Rental Housing Association of Washington. Martin was hired after his internship and rose through the ranks, eventually becoming executive director.
When he learned the top job was available at the Tacoma-Pierce County Association of REALTORS (TPCAR), he again knew he had to take it.
In March, Martin started in his new role with TPCAR as CEO. With about 2,100 members, the association serves Realtors, and in turn their clients, by acting as both a resource center and a political advocate. Martin said he is looking forward to bolstering membership support and tackling the evolving, competitive South Sound housing market.
How have your first months as CEO been?
Fun. It's been challenging and fun, though, because the entire staff is (now) turned over … we'll have a whole new team. There's only four of us. It's not a huge office, but when I came in, some folks were on their way out: retiring, being relocated with military stuff, going back to school.
Stepping into it, it's just been a really unique opportunity to be able to work with the board here to kind of influence and determine where the strengths and weaknesses are for the organization, (and) what our membership needs are. It's just been really fun to be able to plug in and bring a new team on board that has the same vision that I have for things.
It's been nothing but positive so far. And it's fun because I have the support of the board. I have a really supportive environment here. They brought me in for a reason, and I'm trying to make it happen.
What are some of your priorities for TPCAR going forward?
It's growing our membership … making our benefits better. Making our services better for (association members). Showing (and) displaying value in what it means to be a Realtor beyond just dollars and cents. … So that's a huge goal for me. The outcome of all the stuff we're doing right now is to grow our membership.
Another goal that I have personally … is community partnerships and trying to expand out and find how we can get out in the community to grow opportunities for people to see becoming a Realtor or real estate agent as a career path they can attain. Open doors for folks that maybe don't see this as a career path. You don't have to go to school for four years, get a degree, get a master's, all that stuff, to become a real estate agent and be successful at it, at all. We have a big goal there, getting out in the community more, engaging more, participating more where we can to increase access to housing, (and) diversity in housing. That is, I think, another big effort that we're going to be pushing for right now.
From the time of your internship to your current role as CEO, what have been some of the biggest changes in the housing industry?
The world that we're in now with social justice being (at the) front of people's mind, and there's (now) a lot of catch phrases and slogans around housing. "Housing is a human right," stuff like that, that didn't exist, or it wasn't a prevalent thing, 15 years ago.
There was no anxiety around cost at that time. I mean, the market hadn't gone nuts. It was a little wonky, but then it crashed two years after I started. We had the crash and it corrected, so there wasn't a lot of cost pressure involved. We didn't have a huge booming economy like the tech sector that we have now, where people were coming here by the thousands every month, getting high-paying jobs to be able to afford what they wanted to afford for housing.
I think socially, housing was not looked at in the same way it is now, where now it's like a social-justice commodity. … You have to be aware of everything that's going on now politically, I think, in the housing industry to be successful.
What do you think Realtors can do to support more racial equity in homeownership?
There are two sides to this. I think from a professional side of things, as the industry, … there's a lot of work and opportunity that can be done getting in front of kids at a younger age, in diverse areas, and just promoting the idea and opportunity that this is a career path that you could take … I think that's one side of it, just growing the diversity within the industry.
Now, as far as homeownership opportunities, I do think that the more housing supply and the more housing choice that's out there (and) for people to remain in their communities, that would be a big help. People often point to gentrification. I think it's portrayed one specific way as a negative for the existing residents in a community because they're pushed out (and) someone else is coming in. You can improve places without displacing people, and I think we're looking for more ways to do that. I think Tacoma's on the right path with increasing the diversity and choice of the housing type that's available in the city. …
I know that NAR (National Association of REALTORS) has done a lot of work on issues at the national level (and) at the state level. Our diversity chair was really involved in getting some fair-housing legislation through the Legislature this past session that is going to raise the standard of education and require additional fair-housing training to educate people on (these) issues … when they're working with clients.
How we talk about that whole interaction of, "Where do you want to live? What kind of housing are you looking for?" and who we're talking to, how we're saying things, how things are communicated, I think that's going to help a lot on that side of things. So that we're not subconsciously or completely unintentionally pushing people into pocketed areas and saying, "Well you'd probably like this area a lot," or, "You might like that area a lot." Trying to get beyond that, I think, would go a long way as far as diversity in housing. So people don't feel like … (they're in) pocketed communities. … You want to have diversity in housing, not all the rich people live here, all the poor people live here. On the education side, we as Realtors, we can't build the houses. … We can certainly advocate for policy changes that we think would help give people more opportunity to get into housing.
What we can do is control how we're talking to people, how we're making them feel, (and) how we're getting them into position to be able to buy something so that they have housing security for the long term.