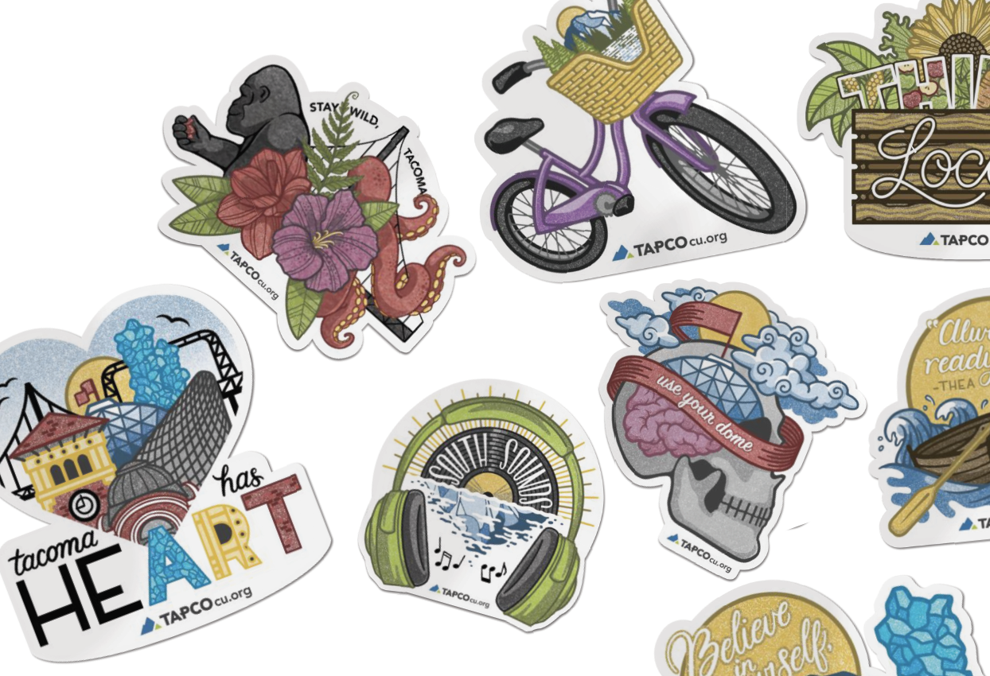 No matter where you are, chances are you're in the vicinity of at least a few promotional products. Or, as some like to call them, "swag," an acronym that stands for "stuff we all get" or "souvenirs, wearables, and gifts," depending on whom you ask.
"I basically decorated my condo for free with all of my swag," Steve Carell's moronic yet lovable Michael Scott once memorably boasted on NBC's classic comedy The Office. Though Carell's character often exaggerated, it's true that promotional products can take on various forms that could decorate an apartment.
Why are so many companies using marketing dollars to purchase stress balls, letter openers, magnetic picture frames, phone chargers, and (believe it or not) bottles of hot sauce?
Because it works.
In one 2019 study conducted by Promotional Products Association International (PPAI), nearly 100 percent of consumers reported being willing to "go out of their way" to get a promotional product. The same study found that 96 percent of those surveyed want to know ahead of time when companies are offering these products. Because the COVID-19 pandemic effectively paused live events and in-person meetings, though, many businesses ceased orders for promotional products. In fact, PPAI reported a more than 19 percent dip among distributors in 2020 compared with the previous year.
But while most demand dried up for typical swag items — like flashlights, notebooks, and bar coasters — 81 percent of industry suppliers nonetheless reported elevated sales for branded personal protective equipment (PPE), including logoed face masks, hand sanitizer, medical gowns, and face shields, by the third quarter of 2020.
Locally, Molen Orthodontics — which serves clients in Auburn, Sumner, and Enumclaw — is known for its diverse swag offerings and partnerships. Even before the pandemic, the business was doing hand-sanitizer giveaways. "It was (previously) a big hit when we would go to events because the adults liked it," said Molen's marketing and referral specialist, Korrina Campbell. "But as soon as COVID was kind of starting, but while events were still going on, people were so excited to get the hand sanitizer. Then when we went to order (more), it was quadruple the price and half the size."
This wasn't the only form of PPE Molen branded following the pandemic's onset. The marketing department also had sunglasses logoed in the company's signature red.
"That's why our marketing team is so smart," said Misty Kissack, Molen's director of operations. "The sunglasses are something that we've always had in our practice. (The kids) put them on when the doctor is working on them so the lights don't hurt their eyes. (The marketing team) just finds an item that we're already ordering, and (they ask), 'Why don't we have that Molen-ed?'"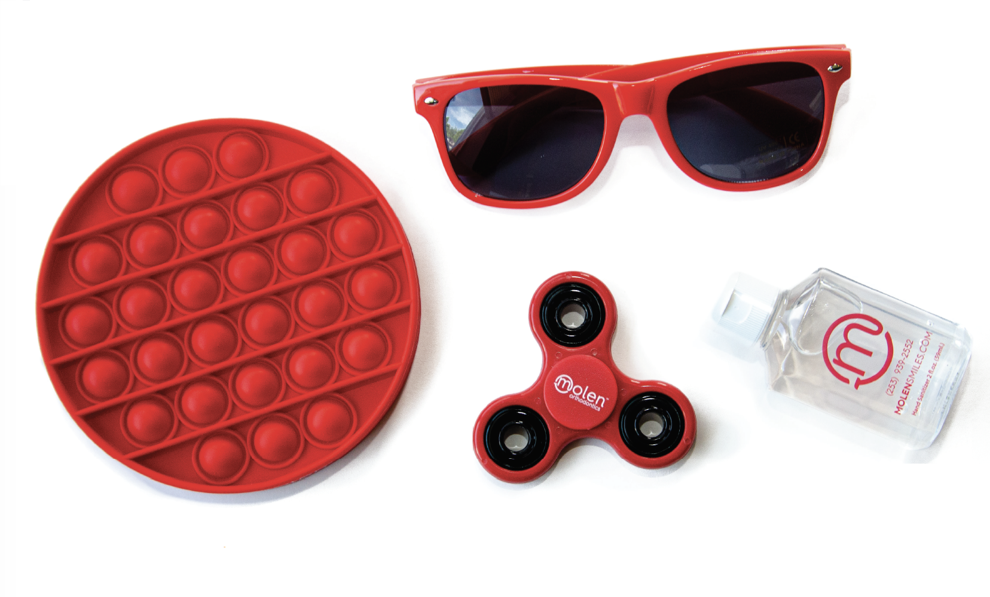 Elsewhere in the South Sound, marketers continued employing promotional products to bolster businesses during a time of economic crisis.
Tacoma-based marketing firm JayRay worked with one of its clients, Visit Renton, to develop what it called the "Make Yourself at Home" campaign, which notably made use of promotional products.
"We provided local businesses with promotional door mats and window clings to let people know their city was open during COVID, and to help create local pride of place," explained JayRay advisor Jackie Zils. "The businesses loved the giveaways, and we ran out of supply fast." Similarly, JayRay worked with client TAPCO Credit Union to produce monthly giveaways for its members with the mission of doubling down on the business' commitment to Pierce County. The result? Artfully designed stickers with images of a familiar mountain, the Tacoma Dome, views of the Sound, and even a Sasquatch mid-stride touting messages like "Stay wild Tacoma" or "City of Destiny."
"Everyone loves stickers, especially when they are hand-illustrated right here in Tacoma," said Kacie Leacy, a senior advisor and principal at the Tacoma marketing firm. "TAPCO hands them out at their branches, which creates a fun and engaging way to connect with members and leaves a smile on everyone's face." Leacy noted that many employees enjoy company swag, too.
"Employees sport them proudly in their cubicles, and you can also find them on car windows, water bottles, and laptops around the county. People like showing their Pierce County pride, and TAPCO gets a little brand recognition as a result. It's a win-win," she said.
With live events possibly revving back up, the promotional products market is slowly rebounding. And marketing teams are again looking for promotional products to entice new clients and solidify existing relationships. The team at Molen is always looking to expand its swag offerings. While conducting research recently, the company found that pop toys — a type of fidget plaything with rubberized dimples that users can "pop" like bubble wrap — are the hot promotional product of the moment. Not a company to leave a promotional-product opportunity unexplored, Molen debuted pop toys at the King County Fair in mid-July.
"(Kids) would spin (our prize wheel), and if they didn't get (a pop toy), they would run and get their parents. They would bring their parents back and their siblings back; everyone had to have a pop toy," Campbell said.
For Kissack, the experience at the fair reminded her how mutually gratifying — even if temporarily — giving out promotional products can be.
"When a little kid's face just lights up because we hit it out of the park (with our product), I feel like it is really rewarding," Kissack said.
---