Most things involved in business tend to trace back to the health of the economy. 
As Bruce Mann, professor emeritus in the Department of Economics at University of Puget Sound, said, the rising tide lifts all boats and offers a sailable platform for traditional and nontraditional industries. 
Consider the facial oil in your medicine cabinet, the play you just watched, the museum you sauntered through, the therapist who's helping level your mental health — all are working jobs that are bolstered by a thriving economy. Many of the niche careers that create these activities and products are uniquely positioned here in the Pacific Northwest. 
Western Washington has a balanced ecosystem of diverse industries — technology, advanced medicine, and aerospace, to name a few — that will only continue to grow and attract more professionals to the area, Mann said. Because of the ultraviolet array of industries, for example, our region wasn't as deeply impacted by the 2008 recession and was particularly buoyant in its recovery. 
Unemployment rates might lead some to believe otherwise. In 2019, Washington's unemployment rate hovered between 4.5 and 4.7 percent, while the national average was roughly 3.5 percent. However, Mann said the higher unemployment rate is mainly because the Evergreen State draws in a lot of newcomers who might be temporarily unemployed while they transition.  
The employment opportunities that have brought greater individual wealth also have made it possible for unique micro-industries to flourish. 
"Historically, as incomes rise, people's interest and demand for two things in general tend to increase faster than average," Mann said. "One is people's desire to increase their leisure time. … The demand for leisure activities tends to rise pretty nicely, and that's partly what we see in these niche industries. There are things and activities that people are willing to pay for and consume, because they have enough time to do it and enjoy it, beyond putting food on the table and making mortgage payments and buying clothing.
"Cultural activities," he continued, "also increase in demand as people's incomes rise and tend to spin off some of these niche industries. You can see it online with handcraft industries with websites where you can buy strange things that you might not have purchased if you just went to Nordstrom or Macy's, and that's because people are wealthier. They can indulge and indulge in things that are not necessities."
The gig economy can be more volatile to the ebbs and flows of the market with demand for rare goods and services rising and falling quickly, but Mann said he's optimistic about its longevity in this area. 
The Northwest is well-suited to continue growing, he said, meaning the growth of smaller industries will grow as well and people will continue to discover new, creative job opportunities they can build and market by themselves. 
With this in mind, we queried the community looking for people with rare and fascinating careers — the type that garner a "You do what?" from outsiders. And the community certainly delivered. In the end, we talked with animation technicians that operate model trains within a furniture store, a climate psychotherapist, a theatrical fight choreographer, and a pair of emu ranchers. 
The health of the economy, a changing climate, and innovative business tactics have paved the way for these individuals to pursue some of these jobs that might not otherwise exist.
The Animation Technicians
The Old Cannery Furniture Warehouse employs two full-timers to manage its intricate system of trains and animatronics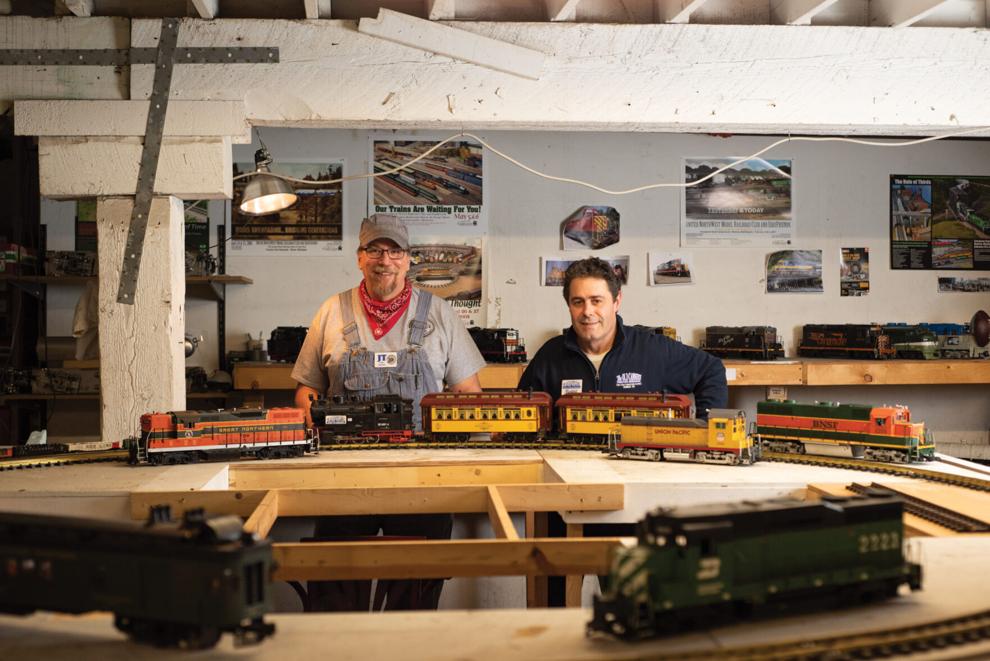 Starting around 7 a.m. each day, either JT Gehrke or Roger Ligrano II flips on the light switch for their shared work studio at the Old Cannery Furniture Warehouse in Sumner and slowly turns on each train parked on extensive tracks suspended over the massive showroom floor.
Gehrke, a retired King County Sheriff's sergeant, and Ligrano, an artist by trade who worked for years with Dale Chihuly, weren't self-described "train guys" prior to their roles as animation technicians at the Cannery, but they are now. Their excitement for their jobs is contagious as they talk about the scratch-made trains crafted for every holiday imaginable — there's even a hot dog train for Memorial Day, when the store hosts a big festival and gives out 10,000 hot dogs — and pull-out blueprints with pencil-drawn sketches. 
The animation technician role has existed for approximately 20 years. The store has owned animatronics since the '90s, Gehrke said, and the overhead tracks were hung in the early aughts. Though the Old Cannery is first and foremost a furniture store, CEO Dave Radcliffe boasts its reputation as an epicenter for fun, a moniker the store certainly lives up to. 
"It's hard for us to compete against the online retailers, and I think people still want to get out and shop, but they want to have a type of experience, and the trains is one of the multiple things we create experiences with," Radcliffe said.
At first it's sort of hard to imagine two people managing the trains and the animatronics full-time, but after a tour of the 77,000-square-foot showroom filled with about a dozen or more trains and trolleys and 17 animatronics — like Jake the Greeter, who welcomes visitors into the store with a little company history — it's easy to see how the men keep busy. 
"In a nutshell," Gehrke said. "Our job is to keep the trains and all the animatronics running. That's our 101. That's the order from the big boss. We can do whatever we want on the side and be creative, but keep the trains and animatronics running, which is easier said than done."
Most model trains run 50 to 60 hours a year, Gehrke said, while the ones at the Cannery run 80 hours a week. As long as the store is open, the trains are moving, which means they're in constant need of maintenance. 
In February, Gehrke and Ligrano replaced all the overhead tracks, a major financial investment for the company that included about six weeks of labor. The two also maintain and add to a model village in the kids' furniture area, curated with unbelievable detail and personal touches. But the holy grail is their Santaland village, a project they worked on for most of the year. 
In December, just before Christmas, the two stood in front of a stately, faux evergreen tree with tracks coiled around it, leading to a snowy village atop a plush cloud. The tree alone took hundreds of hours and roughly eight months to complete. To better explain the inception of their masterpiece, Ligrano grabbed a sketch he made of the design. 
"As he (Gehrke) was talking about different models and things like that, I would do these drawings and sketch out what I was seeing from his conversations, like the Christmas tree or the little buildings. … I have stacks and stacks of drawings."
Equally as amazing as the execution of their work is how the men find and recycle materials discarded from the store. Sawdust and dirt become train loads. A disposed carpet roll becomes the roof of a model building. Scrap wood becomes the base for one of their handmade trains. Barbecue skewers and coffee stir sticks become trestles for a bridge. Anything that can be reused is resculpted and reimagined for Gehrke and Ligrano's magical creations. 
Both delight in the fact that their jobs are ultra-unique, exercising their creative sides full-time in a business climate where many businesses are tightening purse strings. 
"Dave really supports us," Gehrke said. "You kind of wonder how much business this stuff brings in, but you really can't put a number on it."
"You can't," Ligrano said, picking up Gehrke's thread as the two often do when you get them talking. "It's word of mouth. People come in and say, 'I heard there were trains here; this place is incredible.'"
Gehrke continued: "And ultimately, we want people to buy furniture."
The Climate Psychologist
Environmental concerns and their connection with humanity have created the perfect storm for a new job: a therapy specialty, one that is niche now, but may become more mainstream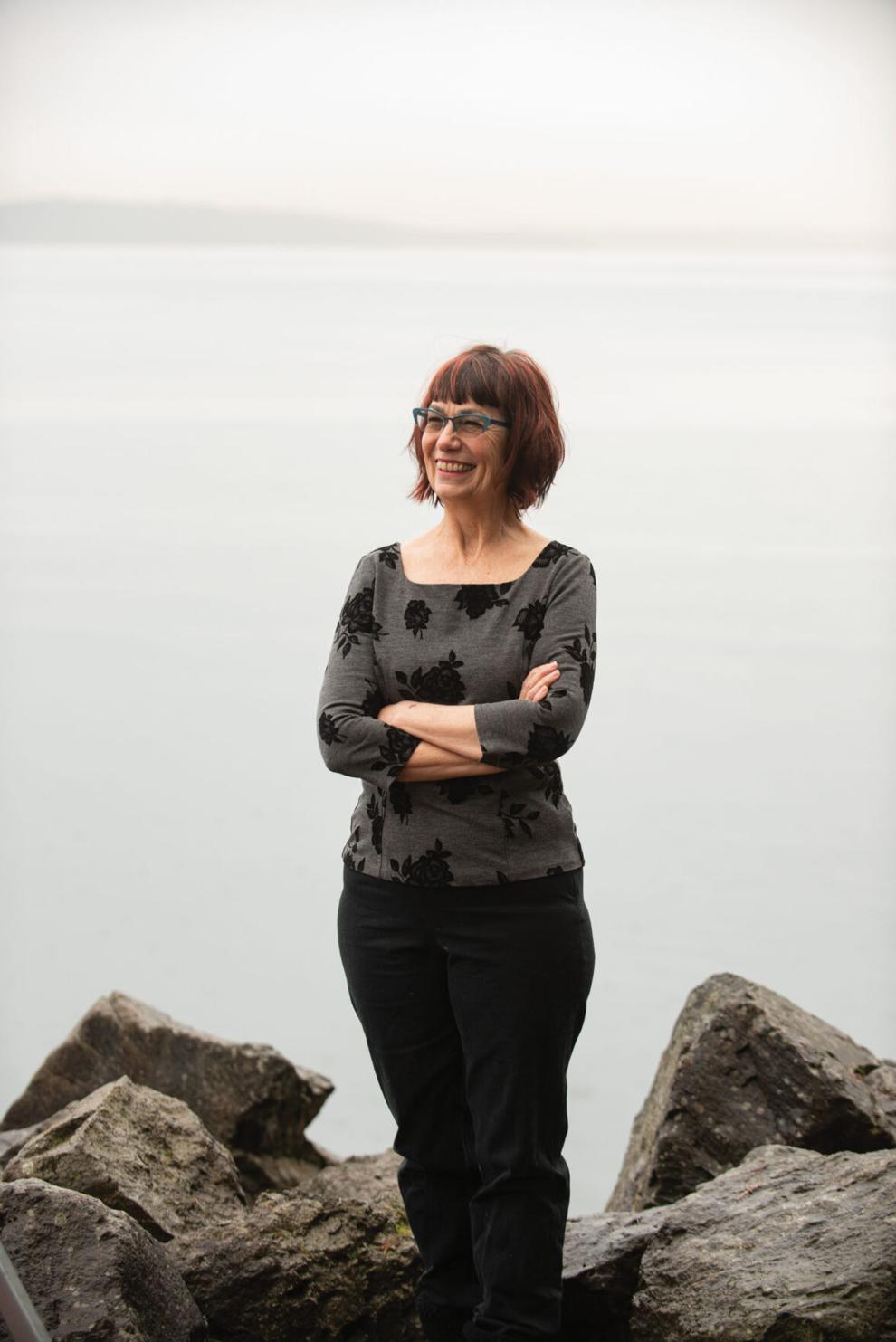 Knowledge is power, but how we
feel
about the information being presented to us tends to manifest in one of two ways: proactivity or a mental shutdown.
Tacoma-based psychologist Leslie Davenport said most people operate within what's called a "window of tolerance" that allows them to navigate the highs and lows of life as long as the negative doesn't overpower the positive. When they're operating within that window, most people can handle setbacks and stress pretty well, but once the cup starts overflowing, their minds can start to check out.  
That likely explains why damning reports on climate change have had little effect on human behavior, she said. When scientists started serving up data points on the consequences industrialized human life has on the planet, they likely hoped it would spur a radical shift in the way humans live — one that might preserve our delicate ecosystem. Instead, Davenport said the overwhelming news has caused many people to retreat from the problem. 
Talk of climate change and its devastating impact has crescendoed over the last few decades, from background noise to an unfurling crisis that's being discussed and experienced more than ever. It's also led people to Davenport's therapy couch.
"We're saying climate change is caused by human behavior, but there aren't any behavioralists talking about this," she said. "There's this missing piece. There are scientists and engineers, and there's politicians fighting it out, but this is about human choice, belief, behavior, awareness, denial, fear," Davenport said. "And I suddenly was like, (psychotherapists) have a huge role to play, not just in helping people cope, but even contributing toward a safer and healthier planet in a proactive way." 
Roughly 40 percent of Davenport's clients have sought her out specifically to talk about climate change, while others begin to realize and untangle their anxieties about the environment after talking to her about other struggles. Her intake form has a separate question probing new clients about how the state of the world, particularly climate change, affects them. For some, climate change doesn't frighten them at all. Others realize it is part of their looming dread.  
To help manage anxiety surrounding the issue, Davenport introduces mindfulness practices — as one of many approaches — to help people expand their "window of tolerance" so they can navigate stressors without being crushed by them. She also encourages people to empower themselves by using their strengths. An educator could create an after-school nature program. A chef could source local ingredients or alter portions so there's less waste. A positive outlook flips the script on climate change from, "We're doomed" to "Let's evolve," Davenport said.
As the global collective has come to acknowledge our impact on the environment, Davenport hopes her industry will become more involved. A licensed marriage and family therapist, Davenport has submitted four proposals to speak to her peers at an annual conference, and they have been rejected four times, citing that climate change isn't within the scope of marriage and family therapy. She disagrees. 
Because some portions of the psychology industry kept shutting the door, Davenport decided to go through a window. She's offered her point of view as a psychotherapist at environmental conferences, and this year she'll be speaking at a conference in Germany about how to bring climate change curriculum into schools. She also published a book in 2017 entitled Emotional Resiliency in the Era of Climate Change — a Clinician's Guide and is writing a similar version geared for children.
Psychotherapists need a seat at this table, she said. All industries affect the environment, and they all begin with behavior.
The Fight Choreographer
Theaters are magical in so many ways, much of which occurs behind the curtain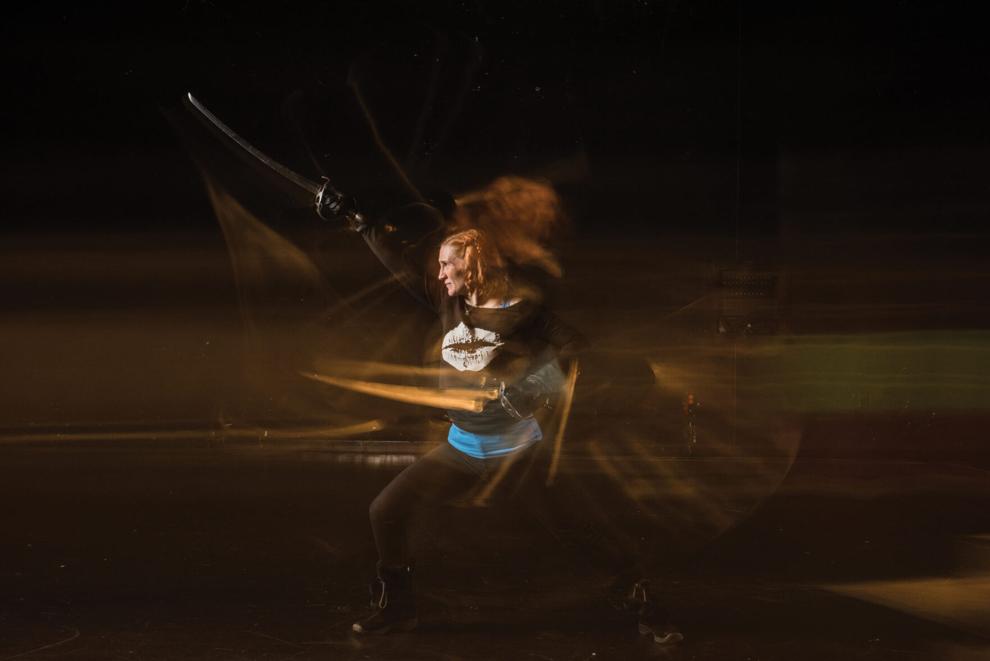 Sword maintenance is certainly not your typical tax deduction, but neither is a career as a fight choreographer.
Candace Dahne, a Tacoma-based freelance fight choreographer and associate professor teaching stage combat at Green River College, plopped a heavy, black duffel bag on her dining room floor and unzipped it to reveal a trove of weapons. There were maybe half a dozen swords lying in front of her, and she's a master at all of them.
Dahne first learned sword fighting in 2005 at an academy in Hollywood. Her teacher was Brian Danner, a famed stuntman and fight choreographer who has trained the likes of Orlando Bloom, Natalie Portman, and Chris Pine. Think about the last live play, TV show, or movie you watched. If there was a fight scene, comedic or otherwise, there's a good chance a behind-the-scenes professional, like Dahne, helped orchestrate the movements, so the faux fight has the same wow-factor as a real one, without the blood or bruises. 
Initially, Dahne dreamed of being an actress, but after taking that class, her work conducting fight choreography slowly snowballed. She started attending summer workshops with the Society of American Fight Directors, learning the nuances of different weapons, and went on to obtain her Master of Fine Arts in acting in 2011 before moving to Washington. 
Just a few weeks after touching down in the Pacific Northwest, Dahne landed a job by word of mouth. More and more opportunities cropped up, allowing her to work in this niche career full-time. Teaching at Green River as a part-time professor helps keep her work steady, she said, especially between seasons when theaters are developing new shows. 
"When I kind of stumbled accidentally into teaching, I realized, hey, this is actually what I really love doing," she said, even though she still loves fighting on the other side of the curtain. "My teaching philosophy is that I'm just helping people gain confidence in themselves, so it's really cool being able to teach and direct something as cool as sword fighting."
Dahne has orchestrated everything from fist fights to gun fights to "found objects" (when characters weaponize whatever's around them, like a frying pan or a glass bottle). Even though it's a simulated brawl, it's still a contact sport, Dahne said. Injuries do happen, and it's almost always when a director opted not to hire a professional choreographer. Being in the Pacific Northwest, where reputable theaters are more likely to hire a fight choreographer helps, but the industry can be unstable at times. 
"There was definitely a major difference in work availability during economic downturns," she said. "Often when someone's income takes a hit, the first place they tighten their budget strings is entertainment. And, of course, when a theater starts experiencing a drop in sales, and even a drop in donors and contributions, their first step is cutting as many nonessential hires as possible. Unfortunately, even though fight directors add so much quality and safety to performances, they are still 'nonessential' for putting on a production."
Now that the economy is heartier, opportunities have blossomed, allowing for steady work for Dahne and others. Most everything seems to link back to the economy one way or another, including the richness of entertainment.
The Emu Ranchers

 
Emu products and meat are desired for their health properties, and the accessibility of the niche agriculture industry allowed one local couple to redesign their lifestyle and careers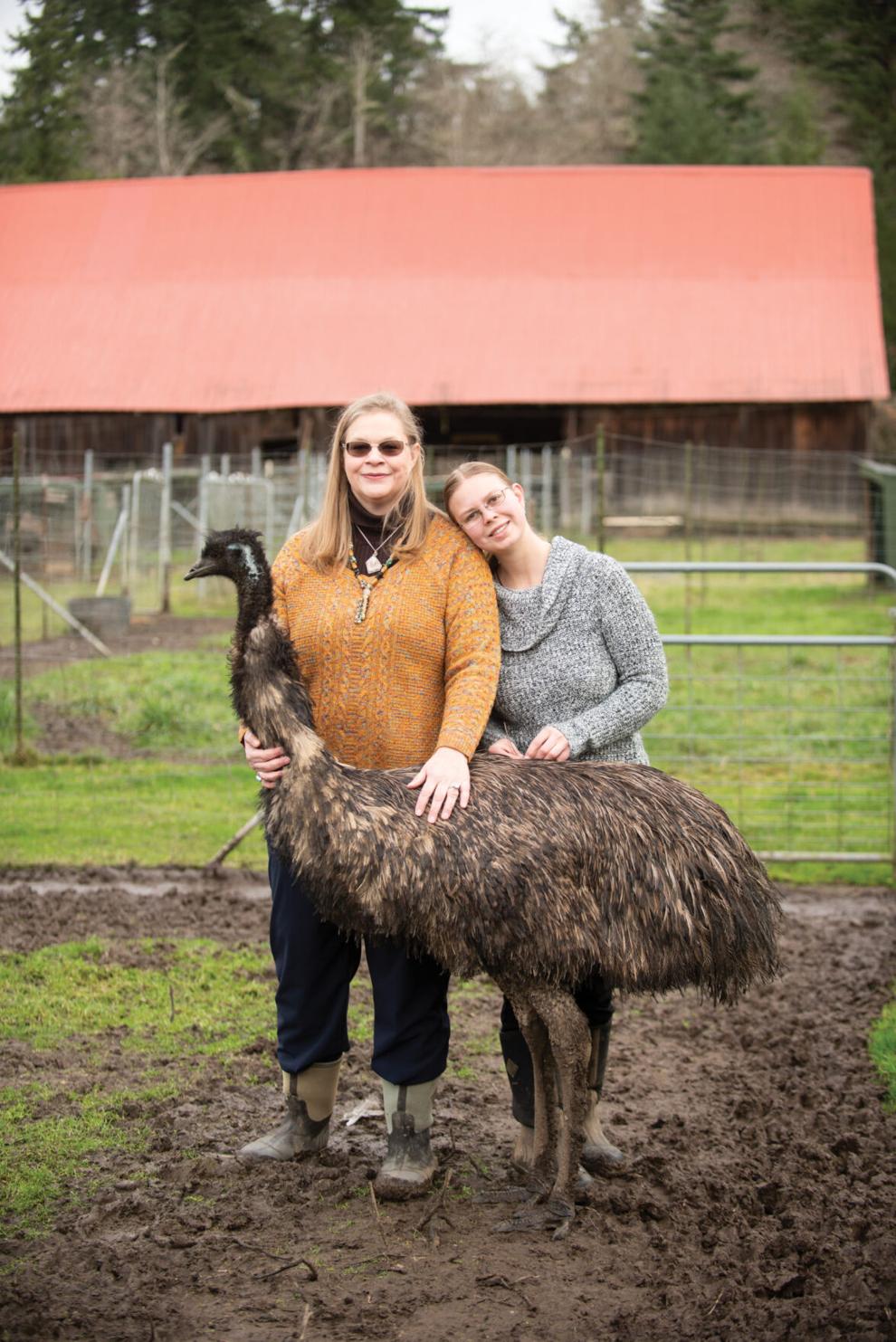 With the advent of the internet, a person can learn how to do pretty much anything, including operate an emu ranch, which is exactly what Janean Parker and her husband, Tony Citrhyn, did when they moved their family from University Place to Chehalis in 2009.
"He's an urbanite, and I'm a suburbanite," Parker said with a laugh. "We used to joke at the beginning that we farmed by Google."
While many dream about putting down roots on some acreage with their family, Parker and Citrhyn made the leap to live more harmoniously with nature, and also have built a nice retirement income for themselves for after Parker decides to leave her career as an attorney representing cities and local government agencies. 
More than a decade ago, Citrhyn started researching the agriculture industry and found that emus, unlike cows or horses, are among the few animals that can be raised on a small amount of acreage. In general, emus are pretty low-maintenance, with few needs for medicines, veterinary care, or daily upkeep. After a roughly 25-year career as a real estate agent, Citrhyn retired around the same time they moved to the ranch and now works on their 3 Feathers Emu Ranch full-time. 
The couple currently have about 50 emus on 9 acres with a goal to grow the farm to at least 100 emus. The birds are sort of mysterious, Jurassic Park-looking creatures, but Parker said they're a shy and curious avian, not at all aggressive like their ratite relative the ostrich. 
The emus pluck around the field, following the couple's daughter, Emily, as she looks for eggs in the morning, but the family doesn't treat them as pets. They raise the birds until they're old enough to be sold for meat and processed for emu oil, a coveted, and still slightly novel, beauty product. 
When the birds are sent to Oregon to be processed, they each produce roughly 25 pounds of heart-healthy red meat that is sold for $10 to $14 per pound, depending on whether it's ground or cut into steaks. 
The excess fat is sent to Tennessee to be refined into emu oil certified by the American Emu Association. The oil has a unique combination of Omega 3, 6, and 9, making it ultra-moisturizing with anti-inflammatory properties. Some of the oil is then turned by Parker and Citrhyn into products, including pain salve, lotions, lip balm, soap, and bath fizz. 
"Emu oil is the first product, and it's still the most important product," Parker said. "Everything else we make is subsidiary from the pure oil. We started with the soap, and that was a bit of an accident. We had a local person who'd been using the oil to make soap, and then she moved away. She taught us how to make soap and gave us all the recipes, and that started us off."
From emu egg to a bar of soap, the process essentially takes two years, Parker said, for perspective. The eggs incubate for roughly 50 days, and the birds grow up on the farm until they're about 2 years old, making it a slow start-up process before any money was made. Right now, the farm serves as a secondary income, but it's a fun and quiet life, Parker said. They've had no regrets. 
"I know there are lots of different business models," she said. "For us, because we didn't have a lot and weren't going to break everything and put everything we had into it, we started small and each year added (emu) pairs and added a product or two and slowly put money back into the farm. Emus worked for us because we didn't have $100,000 to build a farm from scratch." 
Though the national emu industry is small — only a handful of ranches are listed on the American Emu Association website — Parker is hopeful it will slowly grow as consumers recognize the benefits of the products.