If you drive a car and live in the Puget Sound region, it's likely you have downloaded the Waze app to find the fastest route along our region's increasingly congested roadways. Now, Waze is hoping you will use its technology to share the ride to work with your neighbors and co-workers.
On Tuesday, the company launched Waze Carpool in Washington state.
The app allows drivers and passengers to choose their fellow carpoolers based on profiles, star ratings, number of mutual friends, and customizable filters such as same gender and co-worker. Carpoolers can continue to use Waze's free app for real-time traffic updates and HOV routings to travel the fastest routes. Passenger fees are capped at 54 cents per mile, and payments are handled by Waze, with drivers earning money to pay for gas — up to $15 per ride, according to Waze.
The company tested its Waze Carpool service in California, Texas, and Israel. It faces local competition from ridesharing apps Uber Pool, Lyft Line, and Scoop.
"We are running out of options," Waze CEO Noam Bardin said during a private launch party and media briefing on Monday evening in downtown Seattle. "There are too many cars, not enough roads, and the traffic is getting worse. We are not going to be building more roads (or) double or triple the road capacity. We have to change a few things about the way we act as a society."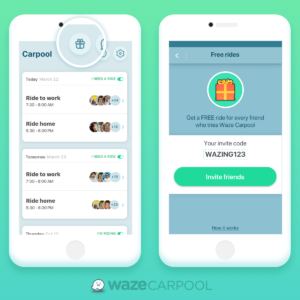 Bardin hopes Waze Carpool creates one more incentive for drivers to get out of their single-occupancy vehicles and choose other transportation options, such as vanpools, buses, and light rail that aim to reduce commute times and traffic volumes.
"If we can get a small percent of our users to share their car, not only can we help them recoup a significant part of their costs, not only can we help the environment, and not only can we help people's lives, but we can actually lower the amount of traffic and reach a positive throughput at a peak time," Bardin added.
"Like many Puget Sound cities, our transportation infrastructure is largely built out," Kirkland Deputy Mayor Jay Arnold commented during the launch party, which also was attended by representatives of Governor Jay Inslee, Washington State Department of Transportation, Commute Seattle, and the City of Tacoma. "Our focus moving forward really is a strategy that invests in the improvements that make the system more efficient. We view Waze Carpool as a great tool that fits right in with our goals of balanced transportation."
Charles Knutson, a senior policy advisor who specializes in transportation and economic development for Governor Inslee, noted that while the state's booming economy is "a good problem to have," the influx of people moving to the area — as many as 1,000 people per week in Seattle, according to Knutson — has put pressure on roads and highways.
"Our infrastructure has not changed its footprint much in the last 50 years," Knutson said. "The more we can be investing in transit, buses, light rail, and in carpooling, better managing the system that we've got, that's how we are going to help everybody get where they are going as fast as they can."
Waze was created 10 years ago and acquired by Google in 2013. It counts 100 million monthly active users who use its free, real-time navigation app. In Seattle alone, that number is 375,000, according to Waze.
The Waze Carpool app is available on iOS or Android. More information is available online at waze.com/carpool.