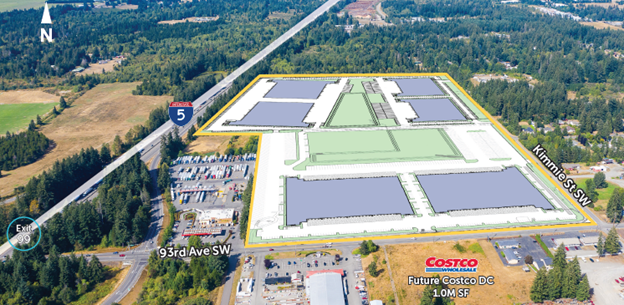 Crow Holdings Industrial purchased an 83-acre site in Tumwater last week. The company paid $23 million for the land, which is located on the corner of 93rd Avenue Southwest and Kimmie Drive Southwest, directly off Interstate 5. 
Dallas-based Crow Holdings plans to develop 1.1 million square feet of industrial warehouse space. The Tumwater Corporate Center will encompass six buildings ranging in size between 175,000 and 200,000 feet and offer an abundance of trailer parking on site. 
Crow Holdings is a privately owned real-estate investment management and development firm with a 70-year history. The company has recently focused on industrial warehouse, apartment, and office buildings.  
The Neil Walter Company's Scott Price and Joel Jones brokered the transaction and will commence marketing. Price and Jones also will represent the property for leases. 
Costco Wholesale Corp. broke ground across the street from the future center on its $160 million distribution center in August. The building sits on a 72-acre site and is set for August 2022 completion.