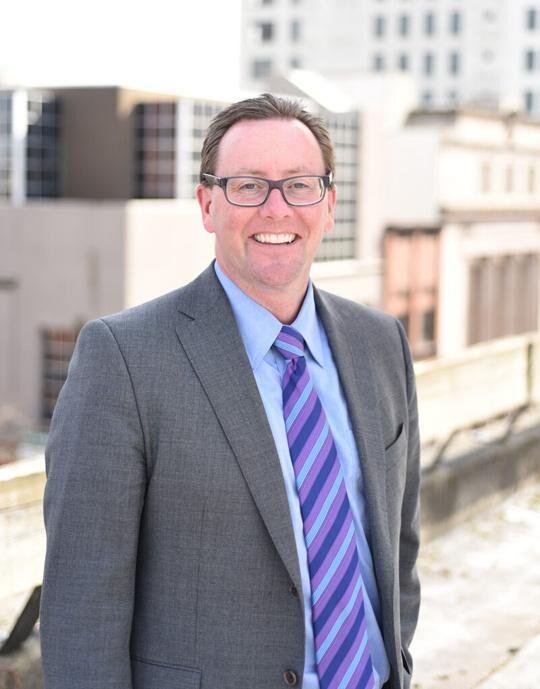 Tom Pierson, president and CEO of the Tacoma-Pierce County Chamber for the past decade, informed chamber members today that he is leaving the post as of Dec. 31.
Pierson, 51, told members in an email that when he took the position, he had committed to himself and his family to serve 10 years. Pierson began the job in mid-2011.
"I believe leadership matters, and there is a point at which a leadership change is good for both the leader and the organization," Pierson wrote.
"I am incredibly proud of the work we have accomplished at the chamber," he said. "Your chamber team is highly professional and effective — the best team I have worked with. This 10-year mark is an excellent opportunity for new leadership to take the organization to an even higher level."
The chamber had 1,249 members at the end of its fiscal year (Sept. 30). Its budget last fiscal year was about $2.4 million. It has 17 employees.
In an interview, Pierson said he has no plans after he departs other than to take a year off to reassess what might be his next move. He also hopes to do more hiking, continue coaching middle- and high-school soccer at Life Christian Academy in Tacoma, spend time with family, and decompress after a difficult couple years fighting to help businesses during the COVID-19 pandemic.
He and his wife, Cindy, live in Milton and have three grown children. 
"I always said, even when I was interviewing for this job, I believe there's a time limit … whether it's a chamber job or other organizations … there's a natural time when you've done good work, and now it's time for somebody to take it from that level and move it forward," Pierson said in the interview. "And you don't want to get stale."
Added Pierson, "A lot of times you see people leaving in times of trouble, and I feel like even though we're still in a pandemic … we're in a very strong place right now" at the chamber.
Pierson said he's proud of the work the chamber has done helping hundreds of businesses during the pandemic and giving them a place for access to information when things were constantly changing.
He's also proud of chamber efforts helping to get funding approved in the Legislature in 2015 to finish the missing link of State Route 167 from Puyallup to the Tacoma Tideflats area, a project that began in 2019 and is expected to conclude in 2028.
Most recently, he's pleased with the work the chamber has done with Pierce County and community partners to establish the Pierce County Business Accelerator, which launched Sept. 28. This resource is geared to help all entrepreneurs and small-business owners but emphasizes BIPOC (Black, Indigenous, People of Color), veteran, and women-owned businesses to help foster innovation and create wealth-building opportunities. The accelerator will provide direct access to business resources, including relevant training, coaching, technical assistance, and networking support to launch and grow micro businesses in Pierce County. Upon completion, participants will receive access to potential funding options, matching grant resources up to $10,000, a commercial rent stipend for one year up to $500 per month, and coaching/mentorship for one year, the accelerator website says.
Before overseeing the Tacoma chamber, Pierson led the Federal Way Chamber of Commerce for eight years, bringing a business-advocacy focus to the role. Preceding that, the 1993 Washington State University graduate worked as chief of staff for King County Councilman Pete von Reichbauer for 10 years.
The Tacoma-Pierce County Chamber has retained the Valtas Group to assist the board of directors in recruiting the next CEO and engaging the broader community in the process, Pierson wrote to members. The search is expected to be national. 
"I am confident in their process and have no doubt the chamber will continue its work making the South Sound the most equitable and inclusive place to do business in Washington state," Pierson wrote of the board's recruitment plan.  
"Thank you for your partnership," he concluded. "It has been my honor to be part of Washington's business and political development, working with business leaders like you!"