Hundreds of people turned out to tour the new GenCare Lifestyle retirement home at Point Ruston during the open house and ribbon-cutting ceremony.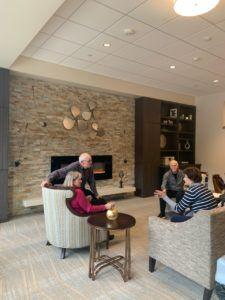 On hand for the ceremonious event were former Congressman Norm Dicks, Congressman Derek Kilmer, Pierce County Executive Bruce Dammeier, and other state and county leaders from MultiCare, the Tacoma Police and Fire departments, the Tacoma mayor's office and many more. They joined GenCare founder Leon Grundstein and Mike Cohen, developer and manager of Point Ruston LLC, to celebrate and cut the ribbon.
Kilmer said he had a chance to tour the facility — one that features a sparkling dining room and chef-prepared meals, fully furnished apartments, a pool, gym and personal trainer, salon, easy access to healthcare and more — all steps away from the waterfront and amenities galore. He added that he was little "envious."
"This is a big deal," Kilmer said. "This is a spectacular facility."
There are 159 units in the $55 million apartment building, and they currently are 20 percent pre-leased. There are 135 active living units and 24 memory care units. The first residents will begin moving into GenCare Lifestyle at 4970 Main St. in Tacoma in February.
Leases at Point Ruston start at $3,575 for a 430-square-foot studio; $4,575 for a 660-square-foot one-bedroom; $6,300 for a 920-square-foot two-bedroom; and $5,750 for a unit on the memory care floor. Those apartments are 550 square feet.
The new GenCare facility will create at least 75 jobs in Tacoma — from nursing to administration, food services, and more.
"We're intentionally investing in what we call unlimited wellness. We've built our communities around four absolutely critical ingredients of a healthy, vibrant life — combining a healthy diet of whole foods, fitness, mental sharpness, and maintaining purpose in their lives," said Grundstein.
There are five more GenCare communities in the area in Lynnwood, Renton, Granite Falls, Ballard, and Federal Way.
During the open house, people toured the community and saw the apartments, met the chef and tasted the food, checked out the fitness area, hair salon, movie room, and more.
GenCare is partnering with MultiCare, DispatchHealth, and Olympic Sports & Spine and others to meet the wellness needs at their community — in many instances the healthcare professionals will come to the residents at GenCare. Yes, the old-fashioned house calls are, well, new again.
"We share a common vision with GenCare — that healthcare can be better by making it easier and less complex for seniors to access hospital and other medical services," said Christi McCarren, senior vice-president of retail and community-based care for MultiCare.