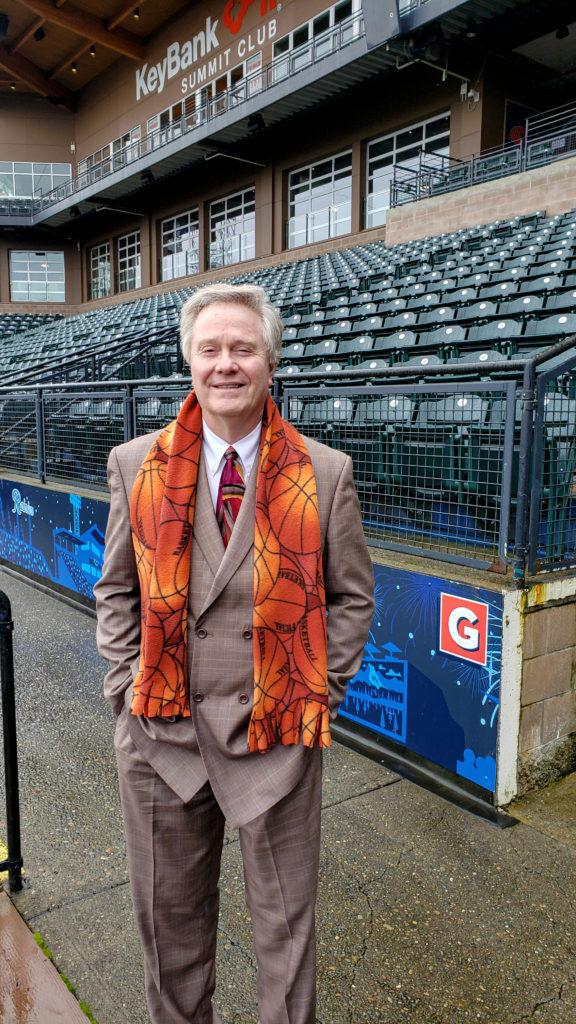 The University of Washington Tacoma's (UWT) new sports enterprise management program hit the ground running last fall, thanks to a $1 million gift from the Tacoma Rainiers, which could be among many area teams, schools, and nonprofit organizations that benefit from UWT's pipeline of business-trained graduates.
The program is the state's only undergraduate sports enterprise management program taught in a business school, said Stan Emert, director of sports enterprise management in UWT's Milgard School of Business.
"The significance of that is the sports industry itself globally is now over a trillion-dollar industry — it's massive," Emert said.
"If you look into professional sports now, so many of the general managers are not coming from the sport itself; they are coming from business schools," he said, noting that more sports employers are looking for the analytical skills that business students learn. 
Aaron Artman, president of the Rainiers, said that if his organization is successful in building the Heidelberg Sports Village (see accompanying story), it could include housing for UWT's sports enterprise management program, whose students would take classes on-site and receive hands-on experience with the Rainiers, Tacoma Defiance, and Reign FC. That would be unique for such a program nationally and have huge benefits for Tacoma, Artman said.
"The focus of that program is really to create a very practical curriculum," Artman said. "If you're going to be a lawyer, you go to law school. If you're going to be a doctor, you go to medical school. If you want to be a sports executive, this school will give you … the real stuff you need."
Not everyone's going to become an agent or work at a giant sports company evaluating sponsorships, Artman said, adding that most jobs are in areas like ticket sales, operations, and similar roles. "We want to be the best in class at teaching them those exact skill sets."
When Emert was researching the program's viability, including interviewing pro team executives in Tacoma and Seattle and nonprofit sports enterprises, he found a need for business-trained sports management students.
Executives all said, "'We are looking for more business-oriented people to work with us,'" according to Emert.
Armed with information and research, he formally proposed the program to UW and got the green light. The idea is that students can earn a minor in sports enterprise management with, for example, a major in business administration. Students could earn other majors, too.
The minor received initial approval from UW administration in Seattle and awaits final approval there and from the UW Board of Regents. Classes, however, have been approved and are underway.
The program requires three core classes and two electives. Core classes are Essentials of Sports Enterprise Management, which is the basic entry-level class; Seminar in Sports Enterprise Management, the capstone course; and Business Intelligence, taught in the Business school's analytics department. Students choose two electives from among 39 offered — including Sports Marketing, which three members of the Rainiers staff will assist with teaching this quarter — throughout UWT's schools, not just business. Students also are strongly encouraged to do an internship, and UWT is working on that with myriad potential employers, including some nonprofits, Emert said.
Emert hopes the pending minor can be officially offered next school year. For students currently in school, the minor will apply to them, and classes they've taken will count toward it, assuming the minor receives final approval. Students who already have graduated will not be able to receive the minor.
The winter seminar course included deep dives into student-chosen topics, a few of which included: "Is marijuana OK in the NFL?" "How can there be fairness with transgender athletes?" And, "How can the NBA return to the Seattle area?" Emert said the students' level of engagement in the class was the highest he's seen in 12 years teaching at UW.
Guest speakers have included executives like Maya Mendoza-Exstrom, senior vice president of legal and external affairs for the Seattle Sounders; Brian Halquist of Brian Halquist Productions Inc., a University Place promoter of MMA and boxing bouts; and Artman.
Emert teaches the sports-related courses in the Summit Club at Cheney Stadium, which enhances the class experience, he said. One evening included a night tour of the stadium, after which he asked students to write a paper on a nonrevenue-generating aspect of the stadium and how it could become revenue-producing.
Potential jobs for students aren't limited to front-office roles with teams like the Rainiers, Defiance, or the Seattle Mariners, Sounders, Storm, Seahawks, or Seawolves. Emert — who played Division II college basketball and later was a 20-year high school basketball coach who assisted in communications and sports operations, and later a middle school basketball coach — has seen how schools, for example, struggle with sports program fundraising and other business aspects of sports. Similarly, with myriad specialized youth programs in sports like baseball, basketball, dance, and gymnastics, where annual participation costs can run in the hundreds or thousands of dollars, the organizations' fundraising and financing can be complex.
The UW program aims to provide tools for that kind of work, which also could be offered through a noncredit certificate program. Emert plans workshops this summer, too, on topics like high school sports revenue generation and how to offer value to parents, for example, who donate.
It's not just traditional team sports that offer job opportunities, Emert said.
Mount Rainier is an anchor for outdoor sports and activities, which run the gamut. There's also an explosion of e-sports, which is a $100-billion global industry, one-third of it originating from this region, he said.
Other area sports include horse racing at Emerald Downs, or hydroplane racing on Lake Washington. The list goes on.
One of the biggest things students are learning is the hyper-local nature of the region's sports, Emert said. For example, while Major League Baseball attendance has trended down nationally over the last 15 years, minor league attendance is trending up because of its hyper-local focus, and "The Rainiers are as hyper-local as you can get."
That same hyper-local focus also applies to other area teams, he said. For example, if the soccer stadium gets built, it would have 50 professional dates, but twice that for youth. Stadium backers have promised 100 free dates each year for local teams and activities.
Emert has been impressed by his students' seriousness and enthusiasm.
"As long as we keep the hyper-locality and we keep focused on our students and making sure that they gain a benefit, then it's an omni-win … everybody wins: The community wins, the student wins, the families win."
Sports management isn't only about big televised events, but also local sports organizations, like youth soccer, where kids develop over time, he said.
"That's the kind of activity that we need to be able to make sure that we can sustain for the long haul — and sustainability is way more than the environment," he said. "Sustainability is economic as well."