A celebration of our region's role in the historic Apollo Space Program will be held to commemorate 50 years since humans first walked on the moon. NASA, The Museum of Flight, and Boeing will partner with the City of Kent and the Kent Downtown Partnership to bring an evening full of STEM-focused interactive games and info booths at the Lunar Rover STEM Festival in Kent.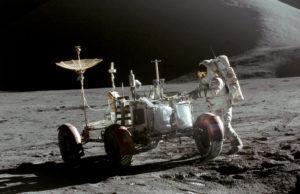 The three Lunar Roving Vehicles that went to the moon in NASA's historic Apollo Missions 15, 16, and 17 were designed, built, and tested by Boeing in its Kent Space Center. Still considered to be the most imaginative and researched wheeled vehicle design in history, making the greatest manned exploration of the moon possible. The rovers, which remain on the moon today, were recently designated as historical landmarks by the King County Landmarks Commission.
Michael Lombardi, Boeing's corporate historian, will join retired NASA astronaut Captain Gregory "Ray J" Johnson and former members of the Boeing's Lunar Roving Vehicle design team as special guests who will speak and field questions at the festival.
The festival will also serve as a grand unveiling of an interactive replica of the Lunar Roving Vehicle which will land at Kherson Park in the heart of Kent's downtown. There will also be hands-on STEM activities for kids of all ages from the Pacific Science Center, The Museum of Flight, FIRST Washington, and more. Admission is free and the festival takes place from 5 to 7:30 p.m., Nov. 14 at the Accesso ShoWare Center. For more information, visit this website.