Thurston County economic signals are generally pointing in the right direction as the economy slowly continues to recover from the COVID-19 pandemic, a leading regional economist said Wednesday during the keynote presentation of the Thurston Economic Development Council's 12th annual Real Estate Forum, which was presented online.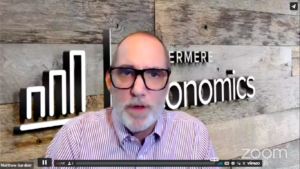 "I do expect to see a recovery next year," said Matthew Gardner, chief economist for Windermere Real Estate.
Gardner also sits on the Washington State Governor's Council of Economic Advisors, chairs the board of trustees at the Washington Center for Real Estate Research at the University of Washington, and is an advisory board member at the Runstad Center for Real Estate Studies at UW.
"I expect to see the unemployment rate drop," Gardner added. "It's probably going to come in by the end of next year somewhere around that 5.5 percent range (it was 8.5 percent in the Olympia MSA in August), and we are seeing positive net migration. All of these things are very good for your market and certainly for your economy."
Gardner's keynote capped a two-hour event that began with three breakout sessions: the impacts of COVID-19 on commercial real estate; local and regional dynamics of the residential real estate market; and public, private, tribal partnerships.
The forum also featured an annual award, this year called the Transformational Impact Development Award. It went to Ken and Julie Brogan, developers of the Views on Fifth luxury apartment building located at 410 5th Avenue in Olympia.
Gardner said Thurston County's population, about 291,000, continues to attract residents from outside the county.
"People are moving to Thurston County," he said. "They're moving there from an economic perspective and certainly moving there from a housing standpoint as well, and that is likely to continue."
Gardner said Thurston's housing market continues to see strong demand and too little supply, which is pushing up prices. Many buyers are millennials, with 47 percent of buyers in the first nine months this year in that group. They have credit, money, and want to buy, he said, noting the oldest millennials turn 39 this year.
"These are people which we need and if you are involved in the ownership housing market, they are out there," he said. "They do want to buy homes, but two things: One, where are they going to buy? … Secondly, what are they going to buy? How are you going to build the kind of product which they want, but absolutely most importantly, are you going to build something that they can afford?"
Millennials are buying mid- and lower-priced homes in the county, but they're there, he said, posing a question to the housing industry and other businesses that appeal to millennials.
"What are you doing to address that demand?" Gardner said.
On the commercial real estate front, some people are concerned that as more people work from home, there could be a large oversupply of office space, he said.
But Gardner countered that the average gross square foot per employee has been shrinking. In the 1990s, office space demand was calculated at 250 square feet per employee, but that's down to the mid-140s today, and 90 at Amazon, he said.
"So if we see fewer people working in offices, what we will see likely is that they will require more space," Gardner said. "So it could be a zero-sum game."