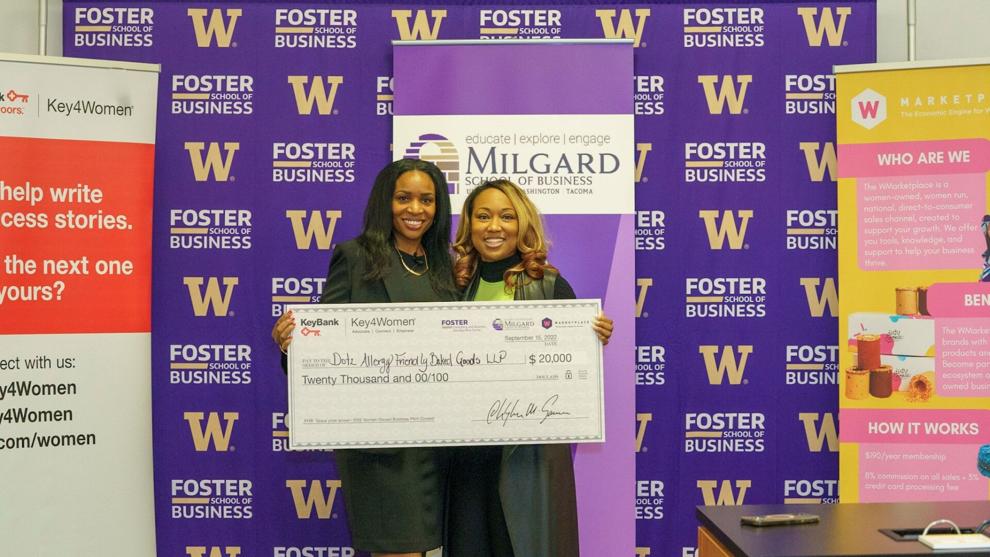 A Tacoma maker of allergy-friendly baked goods won a business pitch contest last week for women-owned businesses in Puget Sound and collected $20,000 to help grow its business.
Dotz Allergy Friendly Baked Goods, owned by A Kouture, was among six South Sound companies finishing in the top 10 of KeyBank's Key4Women program, with prizes for the others winning either $2,500 or $5,000 each.
A Kirkland company and three from Seattle were among the 10 finalists that emerged from 95 applicants, all of which had to be 51 percent owned, controlled, operated, and managed by a woman or women and headquartered in King, Pierce, Snohomish, Thurston, or Kitsap counties.
The University of Washington Tacoma Milgard School of Business and the UW Foster School of Business reviewed and selected entries that satisfied the competition criteria.
The program also included TheWMarketplace, a women-owned, nationwide ecommerce marketplace for female entrepreneurs to sell their products, and professional and personal services.
Businesses were required to include a detailed business plan, mini-market analysis, and profit projections for their service or product. All were judged by a panel of sponsor representatives in one of two categories, start-up business or existing business. Criteria used to determine winners included the quality of the presentation, clarity of business vision and mission, economic impact of the idea, and the soundness of value proposition.
"We congratulate A and her team at Dotz Allergy Friendly Baked Goods on winning the grand prize," Rachael Sampson, national director, Key4Women, said in a news release. "Their pitch was inspiring, and we are so glad to help them grow and expand. Women business owners and leaders positively impact our economy and communities in powerful ways every day, which is evident based on the strength and diversity of the applications we received."
Other cash winners were:
- Runner up: Mattice Beauty Supply, Tacoma — $5,000 prize, Black- and women-owned beauty shop in Tacoma featuring women-owned products.
- Runner up: Lina Kim, DDS, PS, Seattle — $5,000 prize, mobile dentistry, Floss Boss, will bring dental services to the patients and give back to the community.
- Bella's Pet-Friendly Kitchen LLC, Seattle — $ 2,500, manufacturer of premium food for dogs.
- Cirkled In Inc., Seattle — $2,500, young professionals' cloud-based platform for GenZ youth to showcase their professional achievements and stay connected.
- Fanatio Inc., Tacoma — $2,500, gamified social platform generating a fun, comprehensive fan experience with college and pro sports teams.
- Onsight Physical Therapy LLC, Tacoma — $2,500, cash-based business that provides physical therapy consultation and personal training.
- The Bajan Station LLC, University Place — $2,500, food service operating as a booth at local farmers markets serving fresh, nutritious Caribbean dishes.
- The City Loo, Kirkland — $2,500, hassle-free option to meet pets' potty needs.
- The Neighborhood Plant Project LLC, Tacoma — $2,500, donated plants are collected, replanted, and distributed to elderly and disabled people who may be homebound.