On the top floor of an unassuming mixed-use building in the Midway neighborhood of Gig Harbor is a setting that seems more likely located at NASA headquarters. Inside, you'll find the new Mission Control Center for CHI Franciscan with all of the futuristic technology we've come to expect in space stations — but the experts in this bull pen don't specialize in launching and landing rockets. Their focus is in improving patient outcomes.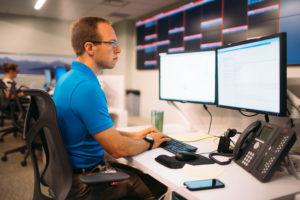 Monday, August 12, marked the launch of the first artificial intelligence healthcare hub in Washington, and the fifth globally. CHI Franciscan, one of the largest health systems in the state serving more than 3 million patients annually, will be using its new Mission Control Center to centralize and advance patient care throughout its 11 hospitals.
"Instead of managing one hospital or one unit, we're working as one team," said Jessica Schlicher, MD, Mission Control Medical director. "And, bottom line: The patient is able to get home sooner."
The wall of analytic tiles flash red, yellow, and green, as they're updated with data fed in from various systems every few seconds. The Mission Control Center consolidates existing data, previously siloed from hospital to hospital, into one, all-encompassing analysis. The system is also informed by historical data trends, current events that may lead to spikes or lulls in patient visits (such as disease states or population growth), and learns as it operates, so it will only get more accurate as time goes on.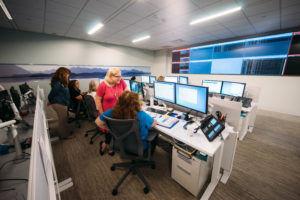 Designed by GE Healthcare, the analytic tiles were created specifically to address CHI Fransican's most critical needs. Current focus areas are capacity, care progression, transfers, and discharges, with room to expand as the data informs other areas in need of improvement. Analytics reveal details down to how long a patient has been waiting for a procedure, to characteristics of a bed: whether it's clean, whether it's in eyesight of the nurse's station, etc. Through this granular data collection and analysis, CHI Franciscan staff will be able to spot trends to improve efficiencies and recognize gaps.
"With this center, we're able to look at bottlenecks — where are the pressure points and where we can make those impacts," said Mary Ragsdale, Mission Control Board Chair. "This department will eventually sharpen the entire system."
The center, after two years of development, is now operational and will be staffed 24/7. For more information, visit chifranciscan.org.