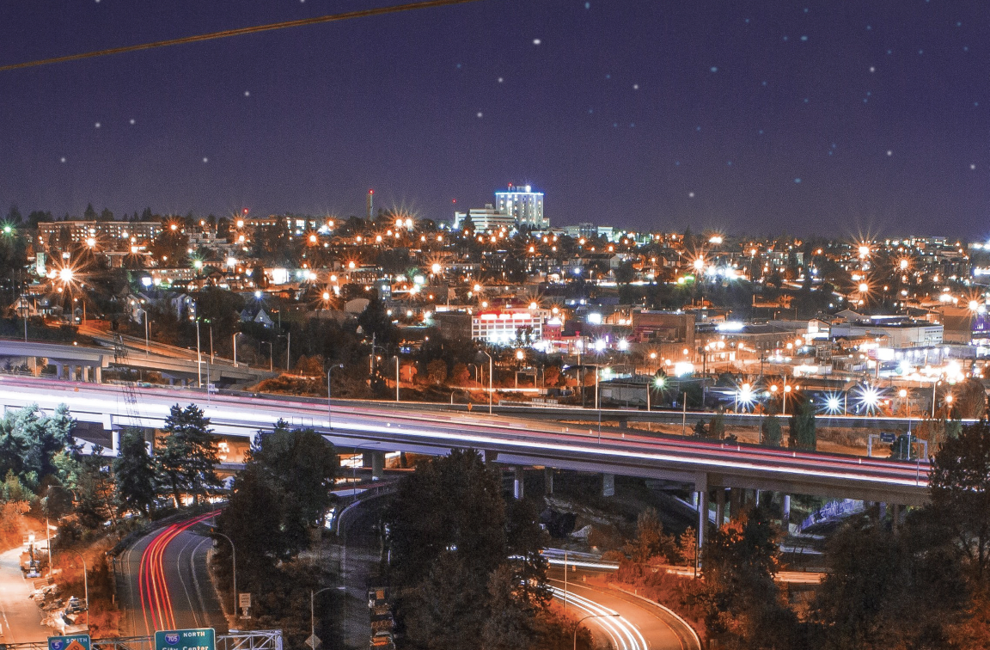 COVID has made it harder than ever to feel conclusive about one's optimism for the future. But new findings from Coldwell Banker Richard Ellis (CBRE) about office market rent growth in the area make it difficult not to feel a little hopeful in that particular area of real estate. 
In its annual Tech-30 report, CBRE confirmed that the Puget Sound region is leading all markets nationwide when looking at office rent increases over the last two years.
The area's blossoming tech industry is one factor driving that growth.
"Many Puget Sound tech companies have grown their business during the pandemic. While most are embracing a hybrid work format, they are also investing in office space as part of their plans for future growth," said Brian Biege, senior vice president with CBRE's Tech & Media practice in Seattle, in the report. "Their demand for modern, collaborative office space is rooted in fostering innovation; it is pushing rents to historically high levels."
According to the most recent commercial real estate report from Kidder Mathews, though, the region's gains as a whole are not necessarily reflected within every subarea.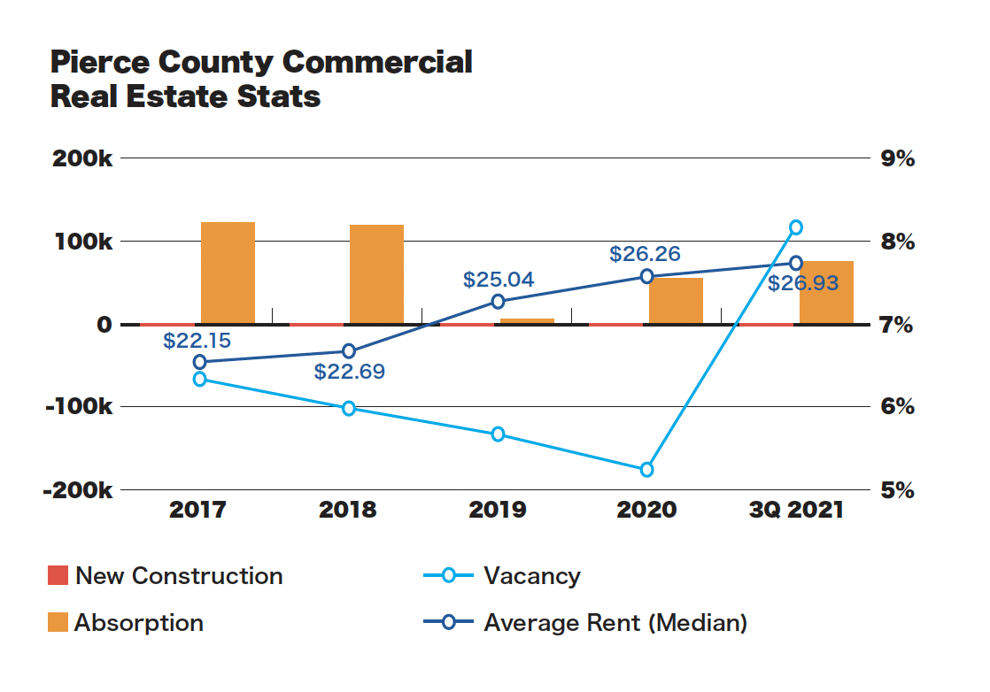 In South Puget Sound specifically, vacancy remains prominent. In Pierce County, office vacancy is currently at 8.17 percent after being the Puget Sound region's low mark in the second quarter of 2020 (at 8.58 percent). That's a notable increase from the end of 2020, which found vacancies in the county sitting at 5.25 percent. And South King County has the highest office vacancy in Puget Sound, currently at 14.39 percent — a small step down from the 15.32 percent of the second quarter of 2021 (though still higher than the 14.12 percent seen at the end of 2020). The submarkets comprising Federal Way and Auburn, and Renton and Tukwila, are particularly high, at 14.6 percent and 19 percent, respectively.
The average rent quote increased over the third quarter to $26.93 per square foot per year in Pierce County; net absorption for the third quarter also was positive, at 75,000-plus square feet, in the wake of negative numbers in the last two quarters (-532,000- plus in the second and -108,000-plus in the first) and a tepid net absorption of 53,000-plus square feet for all of 2020, said Kidder Mathews. The end of Q3 in South King County saw a net absorption of -19,000-plus square feet, bringing year-end Southend absorption to -113,000-plus square feet — a marked change from the -95,000-plus square feet for 2020 on the whole.
As of fall 2021, there are no new significant office sales or construction starts in Pierce County, Kidder Mathews said. The same goes for South King County, save for a municipal project coming to Federal Way. There were, however, 59 office lease transactions reported for the third quarter in South King County, with an average rent quote increasing a little bit from the second quarter to $30.48 per square foot per year. Transactions of note, according to CBRE, were South West Plumbing at Renton's South Lind Square and Live Life Church at the old Shuttle Express Building. The Puyallup submarket snagged the largest lease of the third quarter, with Builder's Capital leasing some 20,322 square feet at the South Hill Business and Technology Center.
Also of note is the movement of the regional Social Security office into 47,522 square feet of space at Tacoma's Columbia Bank Center in the third quarter of 2021, which brought vacancy in the Tacoma central business district (CBD), specifically, to 20 percent. (The old Auburn site will be developed, CBRE said.) Kidder Mathews, as it has in previous reports released during the pandemic window, avoided making projections for the future without caveats.
"While the regional office market remains unsettled, and the state and counties continue to add masking requirements due to a resurgence of COVID cases caused by the delta variant, uncertainty in the regional office market remains," the report said. "We know the impacts of the pandemic have sparked rising vacancy (particularly sublease), negative net office absorption, and sluggish lease volumes since early 2020, but there were signs of improvement in the third quarter (of 2021). With expected healthy job growth in 2022 and steady tech demand, the office metrics remain encouraging."