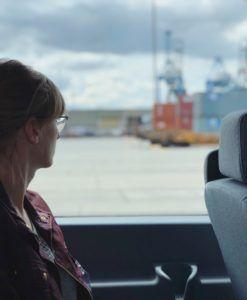 As a community publication, we have our boots on the ground, exploring the local area and highlighting intriguing personalities on a daily basis. But it isn't often that we get to tour an area as a whole. We get little snapshots of the cities we cover as we zip around for meetings, but it's so valuable to get that wide-angle, in-person experience.
So, for the last year, we've been loading up tour buses with our reporters, editors, photographers, and designers to get to know our coverage area a little better through designated city tours.
Yesterday, we had the pleasure of visiting the Port of Tacoma, which celebrates 100 years of operation in the South Sound, with Director of Public Affairs Nick Demerice as our guide.
Here's what we learned.
A Tale of Dueling Ports
The Ports of Tacoma and Seattle have a storied, roughly 90-year history of trying to outmuscle each other for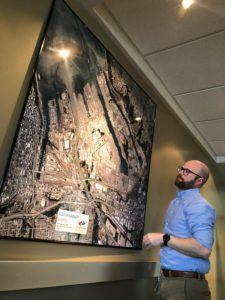 international imports. As shipping prices escalated, shipping lines started to consolidate. Instead of sending smaller, half-full ships of goods into port harbors, the steam ship lines started moving cargo on bigger vessels and companies exporting the goods started sharing the ships for more efficient travel. That consolidation changed the dynamics of who was calling which port terminal — Tacoma or Seattle — to receive the vessel.
"For years, Seattle and Tacoma have been competing against each other, trying to undercut each other on price," Demerice said. "As they negotiated with cargo shippers to get better and better prices, all that did was erode the employment and economic impact of the cargo throughout the gateway. What they realized over time was the real threat wasn't between Seattle and Tacoma. The real threat was up in Canada."
The Tacoma and Seattle ports rely heavily on what's called discretionary cargo, which is essentially cargo that is brought in through the ports and then shipped to the American Midwest. About 50 percent of international cargo remains in the Northwest — Washington, Oregon, Idaho, and Montana — and the other 50 percent is then sent to the Midwest. Canada is an aggressive competitor for discretionary cargo, so it behooved the two ports to form a partnership.
In 2014, the Northwest Seaport Alliance was created, marrying the Tacoma and Seattle ports so they essentially "price fix amongst competition." The two ports had to get authority from the Legislature and the federal government to form this first-time alliance between two ports. That's not to say there isn't still a competition for jobs, but the alliance allows the ports to work together instead of against each other.
An Economic Snapshot
The Tacoma port's real estate and marine cargo operations generate nearly 30,000 jobs and about $3 billion in economic activity. In 2013, 36.1 million short tons of cargo worth $77 billion of imported and exported goods moved through the two ports. In the same year, the ports' related economic activity contributed to about one-third of Washington's gross domestic product and produced more than $233 million in annual state and local taxes. The Northwest Seaport Alliance's top trading partners are China/Hong Kong with $21.5 billion and Japan with $14.3 billion in two-way trade.
Top Export Commodities by Value:
Industrial machinery and computers: $1.3 billion
Oil seeds and grains: $1.3 billion
Prepared vegetables, fruits, and nuts: $617 million
Inorganic chemicals: $500 million
Paper and paper products: $459 million
Top Import Commodities by Value:
Industrial machinery and computers: $7.8 billion
Electronics: $7.1 billion
Vehicles and parts: $6.6 billion
Toys, games, and sports equipment: $2.2 billion
Furniture: $1.8 billion
Did You Know?
The government municipality in many ways is like its own city, chock-full of interesting tidbits. Here are a few facts we thought were fascinating.
Super Crane: In February, the Port of Tacoma received four new super post-Panamax cranes from Hong Kong, which where shipped fully-assembled. The massive cranes are used to hoist shipping containers off vessels and were a whopping $11 million apiece. Each crane is 434 feet high, which is a couple hundred feet shorter than the Space Needle. The cranes are a major asset with the ability to unpack an 18,000 TEU vessel, among the largest cargo ships in the world, and will eventually replace the Port's smaller, older cranes. Currently, they're in a testing phase, which will be completed in July.
Tacoma Tideflats: The Port of Tacoma owns 50-60 percent of the Tacoma Tideflats. The rest are privately owned, including by the Puyallup Tribe.
A Sea of Cars: Thousands of Kia and Mazda cars are shipped through the gateway. The largest shipment the port received at once was 4,800 cars, which had to be individually driven off the cargo ship. While we were there, we watched across the water as dozens of Kia cars zoomed off the cargo ship driven by longshoremen, followed by a van that escorted them to a massive parking lot where the cars were parked temporarily, before the van brought returned them to the shipyard.
Hot Potato: Washington is one of the largest French fry producers in the world and much of the export is shipped to Asia. Our Evergreen state is the second largest producer of potatoes in the U.S., coming in just behind Idaho.